Boxer Widget
Display a boxer's name and their latest WLD record.
A click on the boxer's name will load that boxer's BoxRec page in a new window.
Step by Step Guide
Step 1: Find the ID# of the boxer
Visit
http://boxrec.com
and visit the page of the boxer you would like to display
Note down the boxer's
ID#
For example: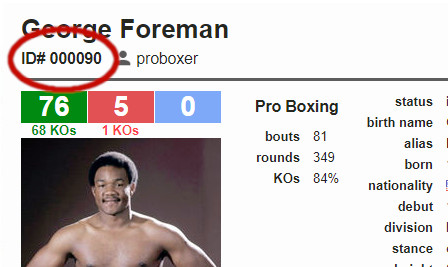 Step 2: Copy & Paste Setup Code Copy the following code and paste it directly after the "<body>" tag in your html page.


<script>
  (function() {
    var boxrectag = document.createElement('script');
    boxrectag.async = true;
    boxrectag.type = 'text/javascript';
    boxrectag.src = 'http://static.boxrec.com/js/widget.js';
    var node = document.getElementsByTagName('script')[0];
    node.parentNode.insertBefore(boxrectag, node);
  })();
</script>
                  




Step 3: Copy & Paste Boxer Tag
Copy the following code and paste it wherever you want the boxer name and record to appear in the page.
<ins data-boxrec='boxer' data-boxrec-boxer='180'></ins>
                                  
Step 4: Change the ID# of the Boxer
Once pasted, change the ID# of the boxer from "180" to the ID# of the boxer you wish to display.
For example, if the ID# of the boxer you wanted to display was "90" then change:
data-boxrec-boxer='180'
to be
data-boxrec-boxer='90'
Full Code Example
<!DOCTYPE html>
<html>
<body>  


  
  <script>
    (function() {
      var boxrectag = document.createElement('script');
      boxrectag.async = true;
      boxrectag.type = 'text/javascript';
      boxrectag.src = 'http://static.boxrec.com/js/widget.js';
      var node = document.getElementsByTagName('script')[0];
      node.parentNode.insertBefore(boxrectag, node);
    })();
  </script>  


  <p>
    In 1974 

<ins data-boxrec='boxer' data-boxrec-boxer='180'></ins>

 fought


   <ins data-boxrec='boxer' data-boxrec-boxer='90'></ins>

 in the Rumble in the Jungle.
  </p>
</body>
</html>