scartissue

wrote:

↑

03 Jun 2021, 23:19

Caractacus

wrote:

↑

03 Jun 2021, 14:28

but the "Sugar Man" himself was in the ring for the fight.

and That is what is known in various courts as a " Primary Witness" (if there ever was one.)

Those obviously biased "Belgium-centric" newspaper writers must have been covering up for Jan de Bruin to save face for their countryman knowing other Nations would have read about it somewhere.

The only problem with an autobiography is that you could put anything you want in there and no one is going to check your work. I understand in Rocky Graziano's AB, he stated that he beat middleweight champ Fred Apostoli (he didn't, he beat a clubfighter named Ted Apostoli - no relation). So I would say, take an AB with a grain of salt.
Well said scartissue. You can never trust an autobiography. Even one by the great man himself.
This is the report from Boxing News and it settles the matter.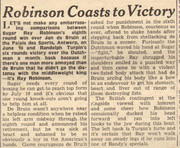 Miles Templeton