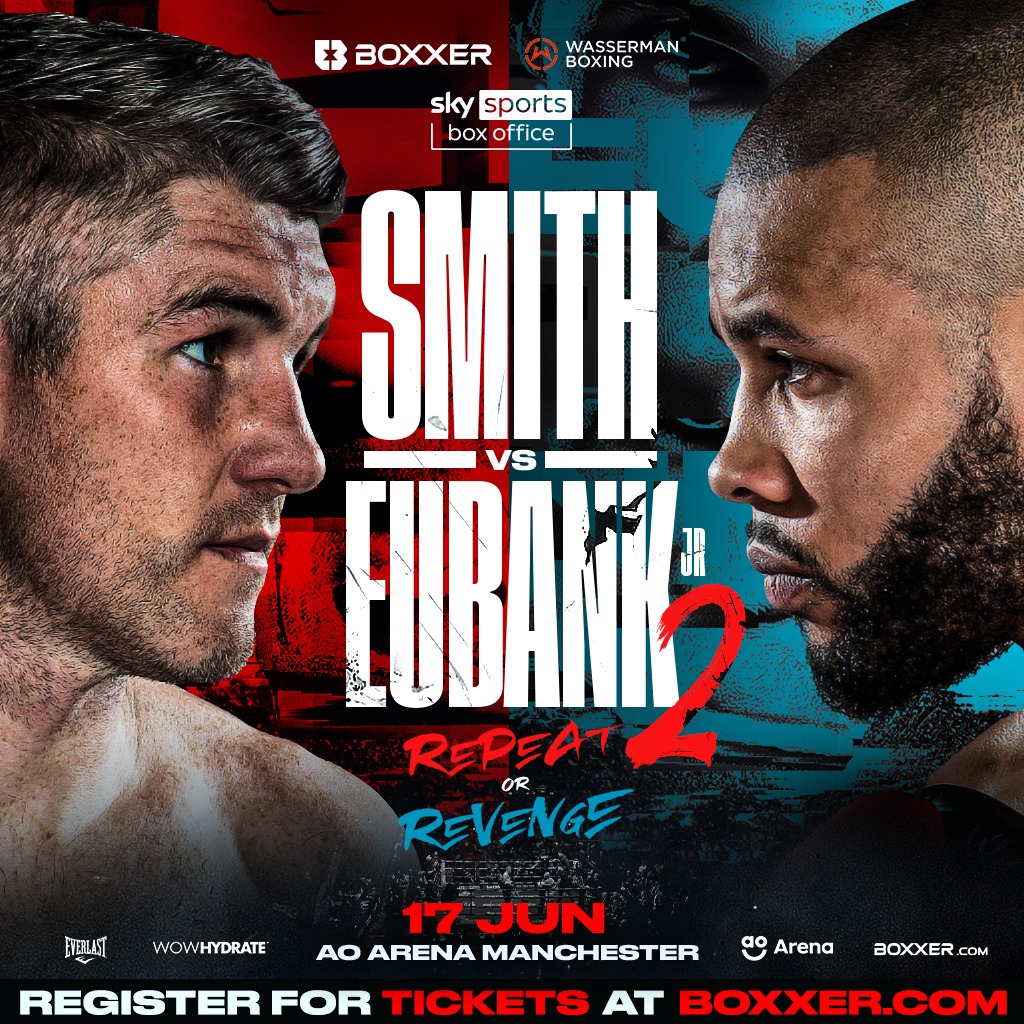 Press Release
Repeat or revenge?
That is the question set to be answered on Saturday, June 17 when bitter rivals Chris Eubank Junior and Liam Smith return to Manchester's AO Arena in a high-stakes rematch presented by BOXXER, in association with Wasserman Boxing – and live on Sky Sports Box Office.
Months of build-up and high tensions in fight week set the stage for a classic encounter in January, with 20,000 fans inside the sold-out Manchester Arena joined by a huge television audience which set a new domestic pay-per-view record for the weight class.
With both fighters eager for a definitive finish, there was little in the way of a feeling-out process. Heavy leather was traded from the opening bell – and it was all over twelve minutes later, the referee stepping in front of Eubank Jnr to wave the fight off in the fourth round.
The result did little to settle tensions between the two men and they rose further with speculation that one of the knockdowns had been the result of an illegal elbow strike.
On June 17, that friction will intensify as both men return to the Manchester Arena for a clash which will change the course of their careers.
For Eubank (32-3, 23 KO's), victory means redemption and will put him back on track for showdowns with elite names on the world stage.
Chris Eubank Jr said: "Liam had the night of his life against me in January, the stars aligned for him in Manchester, and he went away with a big win.
"But lightning doesn't strike twice. If he even has the slightest thought that he can beat me again, then great, because it will be his undoing."
For former WBO champion Smith (33-3-1, 20 KO's), a second win will stamp his authority on the domestic division and set the stage for huge future world title opportunities.
Liam Smith said: "I know he tried his best to go a different route but the fight is on now and I am looking forward to hearing what he has to say for himself in the build up. Let's see what angle he comes with this time.
"He can't come with angles about how he's never been hurt, he's never been dropped, he's never been stopped, because he just had all three of those things happen to him in one night and it was me who did it to him. So I'm interested to see what he comes with this time and I'm also interested to see where he goes after I beat him again on June 17th."
Wasserman's Head of Global Boxing, Kalle Sauerland, said: "Hell hath no fury like a Eubank scorned and there was no chance Chris was going to let this one lie. He's a wounded animal and this makes him extremely dangerous. No sooner had the fight finished, then Chris made it clear that he wanted to trigger the rematch clause and on June 17, he gets his shot at revenge. Smith, you have been warned. Beast mode is on!"
Ben Shalom, BOXXER Founder and CEO, said: "There are moments in this business where you have goosebumps, your stomach is churning and the atmosphere is so intense you're almost shaking. That's what Smith vs Eubank Jr was like. The atmosphere in that arena was unbelievable. There was an absolute wall of noise when both fighters walked out and it didn't stop until well after the final bell. The rematch will take all of that to a whole new level.
"For Liam Smith a second win – especially by stoppage – will underline that he is a world-level contender who will be threatening some of the division's belt holders next. And for Eubank his future is almost certainly on the line. It's incredibly bold of him to take the rematch in the North-West again, in an area which is set to be full again with thousands of Smith's fans."
Sky Sports Box Office will exclusively screen the bout in the UK and Republic of Ireland. Pricing details, as set by Sky, will be released in due course along with further announcements on the full, exciting undercard.
For the latest updates and information on Eubank Jr vs Smith, go to WassermanBoxing.com and Boxxer.com.
Pre-register for tickets now at BOXXER.com.