Frankie Martin (Canada)
Jump to navigation
Jump to search
This article is about the Canadian boxer. For the boxer from Pittsfield, Massachusetts, USA, see Frankie Martin ( Pittsfield, Massachusetts ).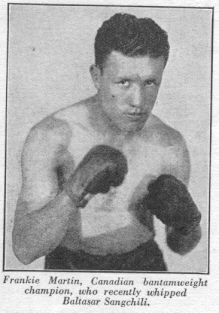 Name: Frankie Martin
Birth Name: Frank Bickerdike Martin
Hometown: Atikokan, Ontario, Canada
Birthplace: Montreal, Quebec, Canada
Died: 1988-03-12 (Age:80)
Height: 160cm
Pro Boxer: Record
Amateur Boxer: Record

Managers: Eloi Rivard, Sammy Gibbs
Former 1923 amateur 112-pound champion of Canada. Canadian representative in 1928 Amsterdam Olympic Games in which he lost his opening round bout to Frenchman Armand Apell on points. Winner of over 50 amateur contests. Per the Nov. 30, 1934 Montreal Gazette. This newspaper article also contains Martin's record-to-date, with his scheduled Dec. 7 bout to be his 32nd.
Martin's and fellow Montreal boxer Bobby Leitham's wives were sisters.