Joe Frazier vs. Oscar Natalio Bonavena (2nd meeting)
Jump to navigation
Jump to search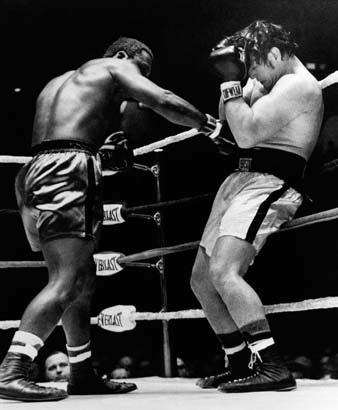 Unofficial AP scorecard: 72-63 Frazier
Unofficial Ring Magazine scorecard - 71-64 Frazier
NYSAC World Heavyweight Title (2nd defense by Frazier)
Undefeated Joe Frazier retained his share of the world heavyweight title by hammering and chopping his way to a lopsided decision over awkward but bull strong Oscar Bonavena of Argentina in a foul-packed 15-rounder at the Spectrum Tuesday night. The 3-1 favored Philadelphian hit the 26-year-old South American with everything he had throughout the scrap but couldn't drop the strong-jawed, bloodied challenger who went the limit with Frazier for the second time. Frazier, 203 pounds to Bonavena's 207, opened cuts over both of Bonavena's eyes, on the bridge of his nose and raised lumps on Oscar's face with his relentless pounding. ... Bonavena, fighting most of the way with his back to the ropes and his hands held high in a peek-a-boo defense, absorbed a fierce pounding to the head and body as he apparently waited to get home one big bomb. He never came close. The clumsy, muscular Argentine was warned for low blows in four rounds—the third, eighth, 10th and 12th, and he lost the eighth by penalty from the referee. ... The flat-footed challenger fought back only in flurries until late in the fight. He kept trying to nail Joe with a big punch but he was wild most of the time and when he did land a good punch, it didn't seem to bother the champion. - Associated Press
Notes
Frazier made $100,000, and Bonavena got $75,000 tax-free. However, as Bonavena negotiated for all of the revenue from South American radio and film rights, as well as for his expenses, the UPI reported that he likely made more for this fight than Frazier.
A crowd of approximately 8,100 produced a gate of $206,000.
While Bonavena was at the Spectrum, his hotel room burglarized.
Quotes
"Come on, Oscar, mix it. Mix it, Oscar. Punch, Oscar, punch." - Frazier to Bonavena during the fight
"Looks like you have to laugh and talk while you're fighting to get any recognition. Frazier is lucky that wasn't me in there with him ... his jaw would be wired up today. If Frazier had dropped his hands and stood there looking at me, I would have jumped down his throat and pulled out his tonsils. I fought the same guy—Bonavena—a year ago and knocked him down twice. How come they didn't say that was a great fight? I'm through with being a nice guy. I'm going to try to beat the next guy I fight to death." - WBA Heavyweight Champion Jimmy Ellis after the fight
"We want Ellis next. Then we can get this title thing settled once and for all." - Yank Durham, Frazier's manager, after the fight