Rau'shee Warren
Jump to navigation
Jump to search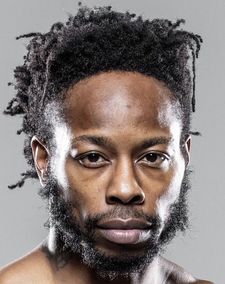 Name: Rau'shee Warren
Birth Name: Rau'shee M. Warren
Hometown: Cincinnati, Ohio, USA
Birthplace: Cincinnati, Ohio, USA
Stance: Southpaw
Height: 164cm
Reach: 164cm
Pro Boxer: Record
Amateur Boxer: Record

Trainer: Barry Hunter
RAU'SHEE WARREN 3 X OLYMPIC BOXER SUPER WORLD CHAMPION

It all started when Rau'Shee was six years old, crying and pleading to his older brothers to let him follow them to the boxing gym. Eventually Coach Michael Stafford of the Cincinnati Golden Gloves agreed to let him come and since that day he has never wanted to do anything but train and learn to fight like his brothers.
The Cincinnati Golden Gloves, which has been sponsored by Buddy LaRosa for many years, has seen many great boxers come through the program before, but none as distinguished as Rau'Shee.
Rau'Shee fought and won his first amateur boxing match at the age of 8. From that point there was no looking back and he would eventually earn the nickname "Nuke" by his mother Paulette Gordon as he put together an unprecedented amateur career leading to a record of 318 wins and 15 losses.
Throughout his amateur career won multiple national and international tournaments was a six time Silver Gloves Gold Medal winner, joining the likes of Oscar De La Hoya, was a 2 time Junior Olympics Gold medalist, and an 8 time gold medalist at the National Police Athletic League Tournament held in Oxnard, California.
Rau'Shee first appeared at the World Championship Games in 2005 where he won a Bronze medal and returned again in 2007 for the Gold.
At the 2010 National Golden Gloves tournament he brought home the Gold medal and that same year won the Gold medal at the Ringside tournament.
At the USA Boxing Men's National tournament Rau'Shee didn't disappoint there either, winning 4 Gold medals and 1 Silver medal.
Rau'Shee also competed as a semi-pro in the World Series of Boxing representing the LA Matadors, fighting to a 6-0 record while still maintaining his amateur status in order to compete at the Olympic Games for the United States.
While all of these accomplishments are prestigious in themselves, most notably Rau'Shee was a 3 time Olympian. He first became an Olympian in 2004 in Athens. At the time he was the youngest to ever compete for the United States.
When he qualified to return in 2008 at the Bejing games, he again made history being the first to repeat in over 30 years, and was selected as the team captain.
After the 2008 games Rau'Shee made the decision to remain amateur and preserve his eligibility in order to once again make history with a three-peat. Indeed, he qualified for the 2012 games in London, and became the first and only U.S. male boxer to ever compete in 3 Olympic games. He was once again selected as a Co-Captain.
After the 2012 games, under the guidance of his lifelong trainer, Michael Stafford, his strength and conditioning coach and brother Steven Warren and long time cutman Levi Smith, Rau'Shee turned professional and signed with Haymon Sports. Rau'Shee and his team have fought the last three years, eight months all the way to his biggest accomplishment yet; after 16 pro fights, on June 18, 2016 Rau'Shee fought his way to become the WBA and IBO bantamweight Super World Champion to an opponent that was a rival from the amateur days.
Rau'shee Warren is a three-time Olympian and 2007 World Amateur flyweight champion.
Amateur Career
World Series of Boxing Results
Miscellaneous Factoids
World Champion