Vasily Solomin
Jump to navigation
Jump to search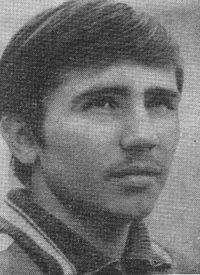 Name: Vasily Solomin
Birth Name: Vasily Anatolyevich Solomin
Hometown: Perm, Russia
Birthplace: Perm, Russia
Died: 1997-12-28 (Age:44)
Judge: Record
Amateur Boxer: Record

Vasily Anatolyevich Solomin (Russian: Василий Анатольевич Соломин) (born January 5, 1953 in Perm – died December 28, 1997 in Perm) (from famous russian family of Solomin) was a boxer, who represented the Soviet Union at the 1976 Summer Olympics in Montreal, Canada. There he won the bronze medal in the lightweight division (– 60 kg), after being beaten in the semifinals by Romania's eventual silver medalist Simion Cutov.
Solomin began training under Yuri Podshivalov in 1969 at Trudovye Rezervy in Perm. He won the world title (the first in Russian sport history) at the inaugural 1974 World Championships in Havana, Cuba. From 1975 on he represented the Armed Forces sports society, coached by V.Ageev.
Olympic results
World amateur championships results
1974 (as a lightweight)