Vyacheslav Lemeshev
Jump to navigation
Jump to search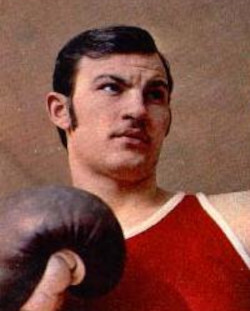 Name: Vyacheslav Lemeshev
Birth Name: Вячеслав Иванович Лемешев
Hometown: Moscow, Russia
Birthplace: Moscow, Russia
Died: 1996-01-27 (Age:43)
Amateur Boxer: Record

Vyacheslav Lemeshev was a boxer from the Soviet Union who captured the Gold Medal in the Middleweight class (165 pounds), at the 1972 Munich Olympiad. Lemeshev knocked out four of his five opponents to win the gold medal. He knocked out future World Light Heavyweight champion, American Marvin Johnson in two rounds in a semifinal, avenging an earlier loss to Johnson in the Soviet Union. He then scored a 1st round knockout (Time 2:17) over Reima Virtanen of Finland to win the gold medal.
Olympic Results