Art Miller
Jump to navigation
Jump to search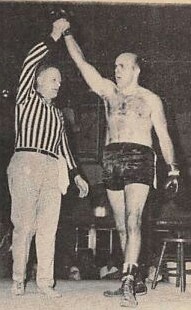 Name: Art Miller
Alias: Curley Arthur Clown Prince
Hometown: Mansfield, Ohio, USA
Birthplace: Gastonia, North Carolina, USA
Height: 183cm
Pro Boxer: Record


Was nicknamed "Curly", yet was bald on top.
Miller began as an amateur in Masfield Ohio circa 1946 and continued as an amateur through at least 1954, fighting for "F-H" or Friendly House.
Amateur record reportedly 45-12 (21 kayos)
Turned pro at age 27 in 1959. ??
Inactive 1961 to 1965.
In the early 1970s, Boxing Illustrated Magazine ran a photo of Miller in their results section, with his hand being raised by a referee, after he knocked out 3 consecutive opponents in one night.
His complete record is unavailable, as he fought under a number of different ring names.