Ben Villaflor
Jump to navigation
Jump to search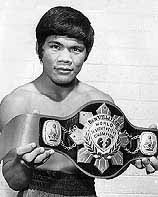 Name: Ben Villaflor
Hometown: Honolulu, Hawaii, USA
Birthplace: Zamboanga City, Zamboanga del Sur, Philippines
Stance: Southpaw
Height: 166cm
Reach: 170cm
Pro Boxer: Record

Manager: Antonio Fajos

Professional Career
Ben Villaflor would make his professional debut in 1966, winning his first twelve fights. In his thirteenth bout, he would lose a decision to Roger Boy Pedrano. In his next fight, he would beat Ben Aranas by eighth-round knockout before facing Pedrano in a rematch. Villaflor would lose the rematch by decision, very similar to their first fight. Villaflor would amass a record of 18-2-2 in his next 22 fights to claim a 31-4-2 record before he made his way to Hawaii, where he would fight most of his remaining bouts.
Villaflor would win his next 13 fights, which included wins against former world title challengers Raul Cruz and Frankie Crawford, before getting his first shot at a world title. On April 25, 1972, Villaflor faced the then-WBA World Super Featherweight Champion Alfredo Marcano of Venezuela. At a tender age of 19 years old, Villaflor would win his first ever world title, beating Marcano by unanimous decision through fifteen rounds. Villaflor would make one defense, a fifteen-round split draw against challenger Victor Federico Echegaray, before losing the title to former featherweight world champion Kuniaki Shibata of Japan in a very highly contested bout. Villaflor would win two bouts before facing Shibata in a rematch. This time around, Villaflor wasted no time, not leaving the fight at the hands of the judges, flattening Shibata in just one round to win his second world title. Villaflor would go 4-0-2 in his next six fights, which included four defenses of his world title, before facing Samuel Serrano of Puerto Rico. The fight occurred on the April of 1976, in Honolulu, Hawaii, ending in a split draw after fifteen heated rounds of action.
Villaflor would win a tune-up bout before fighting Serrano in a rematch in Puerto Rico, six months after their first fight. This time around, Villaflor would lose his title, in a unanimous decision. Villaflor would retire after this bout, with a record of 56-6-6, just one month shy of his 24th birthday. He was forced to retire because of an incurable condition to his left elbow, which threated ;loss of the use of the joint if he continued fighting.
Professional Record
Finished career with a record of 5-2-3 (3 KOs) in world title fights.
Finished career with a record of 3-2-1 (2 KOs) against former or current world titlists.
World Titles
(2) WBA World Super Featherweight Title (April 1972-March 1973; 1 defense, October 1973-October 1976; 5 defenses)