Blue Horizon
Jump to navigation
Jump to search
History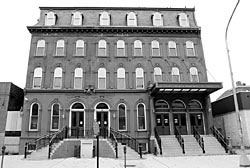 The Blue Horizon is located at 1314 N. Broad St. in North Philadelphia and had originally served as a fraternal lodge for the Loyal Order of Moose since early in the century.
The promoter Jimmy Toppi Sr. converted it into a boxing venue in 1961 and the first show on November 3rd featured George Benton knocking out Chico Corsey in the 3rd round of the main event. Toppi named the venue after the 1940's song "Beyond the Blue Horizon". Its seating capacity is 1,346.
J. Russell Peltz has been the promoter most closely associated with this venue, making his promotional debut there in 1969, and continuing to put shows on there until 2004. Hall of Fame promoter Herman Taylor also put on a few shows at this venue.
The current promoter at the venue is its co-owner Vernoca Michael, who promotes under the banner of Blue Horizon Boxing Promotions.
Place in Boxing
As one of the oldest, and few boxing venues remaining, that are in the style of the old boxing clubs that use to dot the country, the Blue Horizon has been revered as a reminder of the sport's great past. It was voted at one time as the premiere venue to watch boxing by The Ring Magazine, and has been profiled in several magazines. It has been frequently used a venue for televised bouts, particularly on ESPN2's ESPN Friday Night Fights, and the discontinued USA-TV's "Tuesday Night Fights."
External Links