Carl Morris
Jump to navigation
Jump to search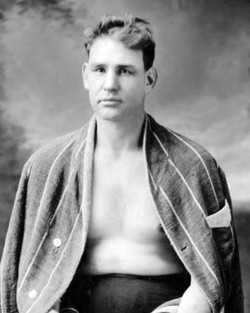 Name: Carl Morris
Hometown: Tulsa, Oklahoma, USA
Birthplace: Fulton, Kentucky, USA
Died: 1951-07-11 (Age:67)
Stance: Orthodox
Height: 193cm
Reach: 206cm
Referee: Record
Pro Boxer: Record


Carl Morris was considered the original "White Hope" by the March 1930 The Ring magazine (although he was also of Native American heritage [1]).
His date of birth is often given as Feb. 23, 1887. However, 1916 newspapers announced on Feb. 23 that he had turned 30 years old.
In February 1911, miner and oilman F. B. Ufer paid W. F. Stone $25,000 to take over his managerial contract on Morris. Seattle Star [2][3]
By May 1918 Morris was a California orange grove owner. [4]
Morris died in 1951 at Pasadena of cancer at age 67.