Category:Diamond Belt Champions
Jump to navigation
Jump to search
United States Boxing tournaments similar to the Golden Gloves Tournament sponsored by various organizations and newspapers in the U.S. with the Philadelphia Inquirer being one of the more notable. It has been said in most cases the tournaments were fought in large districts and at times they had national tournaments.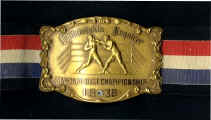 Pages in category "Diamond Belt Champions"
The following 101 pages are in this category, out of 101 total.