Denver Ed Martin
Jump to navigation
Jump to search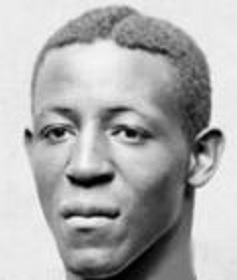 Name: Denver Ed Martin
Alias: Colorado Giant
Hometown: Portland, Oregon, USA
Birthplace: Denver, Colorado, USA
Stance: Orthodox
Height: 192cm
Reach: 204cm
Referee: Record
Pro Boxer: Record



Denver Ed Martin started his boxing career in 1899 in New York and, after a loss in his debut to the more experienced Bob Armstrong, went undefeated from July 1899 until February 1903.
In November of 1900, Gus Ruhlin hired Martin as his chief sparring partner and the two became good friends.
Martin traveled broadly. He went to the United Kingdom in 1902 [1], then off to Los Angeles in 1903, where he had a couple of bouts with future World Champion Jack Johnson.
He came to the Pacific Northwest region of the United States in late 1907 -- specifically to get a shot at Victor McLaglen. (Martin had fought a couple of bouts earlier in the Northwest, in 1901.) After his August 10, 1908 bout with McLaglen, in Aberdeen, WA, a local judge handed Martin a card -- requesting that the boxer come see him the following day. Martin did as requested, out of curiosity. The judge told Martin that people in Aberdeen admired clean and honest boxers such as Martin was, and immediately had him fitted for a $50.00 suit of clothes -- paid by the jurist, which was soon-after shipped to Martin.
Martin stayed in the Puget Sound area for a couple more years, not getting much boxing action, except for some exhibitions (such as with wrestler Dr. B. F. Roller during Roller's first, and perhaps only, bout as a boxer). He then planned to go to Paris in late 1909, but apparently did not go. Martin had a highly-publicized bout scheduled with Jack Lester for February 1, 1911, at Tacoma's Glide Rink, but it was canceled at the last second by the Commissioner of Public Safety. [2]
By January 1910 Martin was a porter on a train running out of San Francisco. (He once passed himself off as Jack Johnson and "was entertained quite royally until the game was discovered." [3])
With local authorities preventing prize-fights, sometimes at the last minute [4], Martin was not getting much boxing opportunities by 1911.
So he took up professional wrestling by late 1911. His wrestling debut was a win over Jack Leon Dec. 14, 1911, at Moose Hall, Tacoma, WA. (They also planned a boxing match for January 1912 that didn't happen. [5], [6]) They wrestled again Jan. 1, 1912 at the Tacoma Armory.[7] He had another wrestling bout April 29, 1912 at Swiss Hall, Tacoma, with Emil Schock.
By 1912, Denver Ed Martin was considered a "has been" [8]; his boxing career was pretty much over by 1914.
Per the Nov. 25, 1915 Tacoma Daily News, he had been living the past two years in Spokane, WA, where he was the boxing instructor for a social and athletic club. But he had gone back to Denver the Monday before to attend his mother's funeral.
Martin became a referee for both the Portland and Milwaukie, Oregon boxing commissions (circa 1917-20). He then fought a handful of bouts in Oregon during 1921 before calling it quits for good. During the late 1920s, he was the trainer of Portland journeyman middleweight Young George Dixon. He also trained other African-American boxers in George Moore's stable.
During the mid-1930s, Denver Ed Martin was in poor health while residing in Oakland, California.
---
Library of Congress Newspaper Search Results: [9]