Dick Sadler
Jump to navigation
Jump to search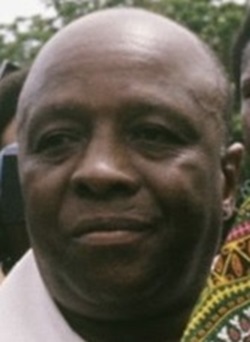 Name: Dick Sadler
Birth Name: Charles R. Sadler
Hometown: Hayward, California, USA
Birthplace: Columbus, Ohio, USA
Died: 2003-06-03 (Age:88)
Pro Boxer: Record

Photo #2
Dick Sadler is best known as the trainer and manager of World Heavyweight Champion George Foreman during the first half of Foreman's career in the 1970s. He also trained World Junior Middleweight Champion Freddie Little.
In an early 1980s column by The Los Angeles Times sports columnist Jim Murray, which was syndicated throughout the United States, Sadler claimed to have rode the rails out to the West Coast during the mid-1930s. While there his train stopped in Spokane, and he first started working with fighters. Sadler would tell Murray that the first fighter he worked with was Tiger Jack Fox. (It should be noted that research of the Spokane newspaper, the Spokesman-Review, has not uncovered any mention of Sadler working with Fox in Spokane. Fox's trainer during the 1930s was Billy Nelson.)
In 1970, the Boxing Writer's Association of America awarded Sadler the Al Buck Memorial Award, for the "Manager of the Year."
Sadler was inducted into the World Boxing Hall of Fame: Class of 2007.
---
Fighters Sadler Trained:
Source: The Ring Magazine