Don McCorkindale
Jump to navigation
Jump to search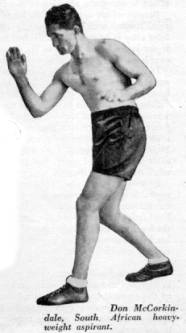 Name: Don McCorkindale
Birth Name: Daniel Dinnie McCorkindale
Hometown: Edenvale, Gauteng, South Africa
Birthplace: Pretoria, Gauteng, South Africa
Died: 1970-08-11 (Age:65)
Height: 185cm
Pro Boxer: Record
Amateur Boxer: Record

Manager: Ted Broadribb
Don McCorkindale (born Daniel D. McCorkindale) represented South Africa as a light heavyweight in the 1928 Amsterdam Olympic Games. While boxing in Great Britian, he also won the 1926 ABA light heavyweight title. McCorkindale went on to be involved in films; his credits included the Gracie Fields's vehicle, We're Going to be Rich (1938), in which he played "the killer." Later, Freddie Mills, Light Heavyweight Boxing Champion of the world, married McCorkindale's ex-wife Chrissie, as relayed by Don McCorkindale Jr.
Olympic results