Archie Moore vs. Willie Pastrano
Jump to navigation
Jump to search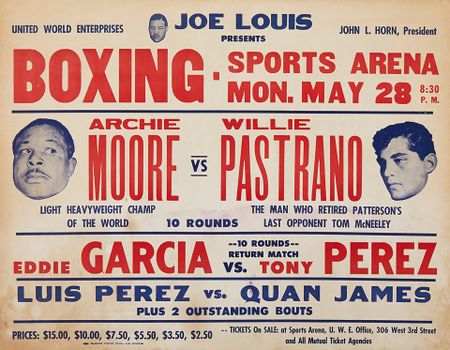 Notes
The fight was promoted by United World Enterprises. Joe Louis was the company's matchmaker.
Moore was guaranteed $25,000 and Pastrano $15,000.
There was a crowd of 6,731.
Moore was a 2½ to 1 favorite.
The Associated Press reported that a consensus of boxing writers thought Moore won.
The Associated Press, which scored the fight 8-2 for Moore, reported:
Old Archie, 201½ pounds of bulk and determination, stalked the 185-pound Pastrano about the ring from bell to bell. Willie jabbed, ducked, dodged and retreated. At the final bell, Pastrano stood tired in his corner. His handlers appeared in anything but a victory mood. Across the ring, Archie beamed, grinned, waved to friends and suddenly broke Into a spirited exhibition of shadow boxing.
United Press International, which scored the fight 4-4-2, reported:
Pastrano, at 185 for his second comeback bout, took the third and fourth rounds with flicking jabs and was making Moore miss and look badly in the process. Moore, still recognized as world light heavyweight champ in California, rallied to take the fifth, sixth and seventh rounds with a punishing body attack. But Pastrano came back with a late rally in the 10th round that probably saved his draw.
Post-Fight Comments
Archie Moore: "Everybody knows it wasn't a draw. Willie was the most surprised guy in the arena when he got a draw."
Willie Pastrano: "I thought I won at least six rounds. I'd like to fight him again, anytime, any place and any weight. He's the smartest guy I ever faced."
Newspaper Articles