Fireman Jim Flynn
Jump to navigation
Jump to search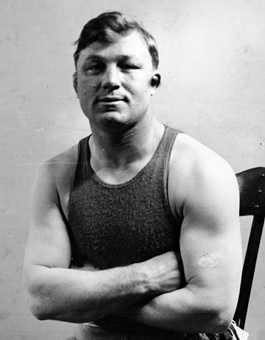 Name: Fireman Jim Flynn
Alias: Andrew Haynes
Birth Name: Andrew Chiariglione
Hometown: Pueblo, Colorado, USA
Birthplace: Hoboken, New Jersey, USA
Died: 1935-04-12 (Age:55)
Stance: Orthodox
Height: 179cm
Reach: 179cm
Pro Boxer: Record

Division: Heavyweight

Real name also reported as Andrew Chariglione.
He emerged from the railroad yards of Pueblo, CO, to gain fame in the ring.
In the months before his death, he was operating a bar in a seedy section of Los Angeles.
Died at a Los Angeles area hospital of a heart attack.