Frankie Farren
Jump to navigation
Jump to search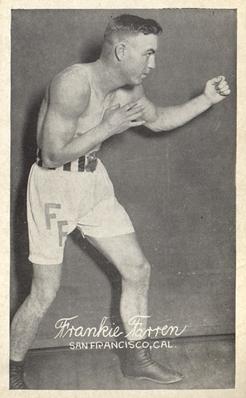 Name: Frankie Farren
Birth Name: John William Francis Farren
Hometown: San Francisco, California, USA
Birthplace: California, USA
Died: 1958-06-30 (Age:60)
Pro Boxer: Record

Manager: Dolph Thomas

Often confused with Utah Lightweight Frankie Darren, who fought many of the same fighters as Farren.
He became a San Francisco longshoreman. Sept. 1, 1941 Tacoma News Tribune (Tacoma, WA, USA)
On the California Death Records database on the RootsWeb genealogical website, there is one John Williamfranc Farren who was born on November 11, 1897, and died on June 30, 1958 in San Francisco County.