Freddie Mills
Jump to navigation
Jump to search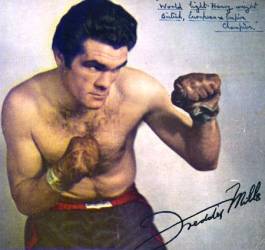 Name: Freddie Mills
Alias: Fearless Freddie
Hometown: Bournemouth, Dorset, United Kingdom
Birthplace: Bournemouth, Dorset, United Kingdom
Died: 1965-07-25 (Age:46)
Height: 179cm
Reach: 183cm
Pro Boxer: Record

Division: Light Heavyweight
Managers: Jack Turner, Ted Broadribb, Charlie Mills, Reg Spring

Freddie Mills was born at at No. 7 Terrace Road in Bournemouth, England. In the early part of his boxing career he had Gordon Cook in his corner; later it was Nat Sellers.
Post Boxing Career and Death
Freddie Mills became a London night club owner in retirement, and a friend of the Kray brothers, Reg and Ronnie, who were powerful crime figures in London, as well as former boxers. In 1948 he married Chrissie Broadribb, the daughter of (Ted Broadribb) and the former wife of fellow boxer Don McCorkindale. Freddie and Chrissie had two daughters: Susan and Amanda Mills. the family set up home in Denmark Hill London. Mills was a scrappy, rugged and game battler who was aggressive and liked to get close where he could slug it out; Perhaps, his greatest fights (wars) came against Gus Lesnevich.
Mills was found dead, shot in the head, in London's Soho district. The police officially ruled the death a suicide. However, several theories arose, due in no small part to his relationship with the Krays. Some of the theories included:
He had been arrested in a public toilet, and charged with homosexual indecency, and had killed himself.
His suicide was staged by Chinese gangsters, who were after his club.
He was the still unknown serial killer "Jack The Stripper," who had murdered eight prostitutes near the Thames River in London between 1958 and 1965, and that he had killed himself when he felt he was close to being caught.
He was given his first pair of gloves on his 11th birthday and aged 13 saw his first professional fight at Bournemouth's Winter gardens. He and a friend scaled the side of the building and found a window from where they could see the action. They repeated this on several occasions until one day they were almost caught by the promoter Jack Turner who would later become Freddie's promoter. Freddie Mills mother passed away in 1976 her name was Lottie