Jess Willard
Jump to navigation
Jump to search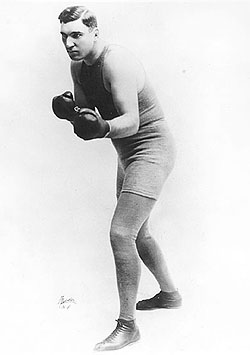 Name: Jess Willard
Alias: Pottawatomie Giant
Hometown: Pottawatomie, Kansas, USA
Birthplace: St. Clere, Kansas, USA
Died: 1968-12-15 (Age:86)
Stance: Orthodox
Height: 199cm
Reach: 211cm
Pro Boxer: Record


Career Overview
A massive, hard-hitting heavyweight champion for his era, Jess Willard is sometimes maligned as simply an uncoordinated oaf lucky to have stumbled his way into the title. Although no paragon of athleticism, Willard was a capable fighter. He had a devastating right-hand punch and a seemingly endless reserve of stamina and courage. He was not among the most talented men to wear the heavyweight crown, but he fought two of the sport's true immortals, Jack Johnson and Jack Dempsey, and had the credentials to secure himself enshrinement in the International Boxing Hall of Fame.
Early Years
Willard was born the youngest of four sons by Myron and Margaret Willard in St. Claire, Kansas. Myron, a wounded veteran of the Civil War, passed away two months before Jess was born. He was raised on the ranch operated by his step-father, Elisha Stalker, and dreamed of one day becoming a cowboy. In young adulthood he first found work in Pottawatomie County breaking, training, selling, and trading horses. After marrying his childhood sweetheart, he moved to Elk City, Oklahoma and started his own business as a mule salesman and wagon driver. When these ventures failed, the broke Willard figured he would capitalize on his unusual size and see if he could make fast money as a prizefighter. For fun he had already boxed a few exhibition with Oklahoma locals, but did not fight his first match for pay until February 11, 1915, at age 29, when he took on the more experienced Louis "Thunder" Fink and took a good lashing. Though he put Fink on the floor in the third round, he was soundly beaten and was eventually disqualified for throwing his opponent in the tenth.

Winning his next four bouts by knockout, Willard was encouraged to continue with his boxing career and eventually garnered himself fights out of state, in Missouri, Indiana, and Illinois. He soon fell under the wing of successful boxing manager Tom Jones, who began billing him as a the largest of the "white hopes." Jack Johnson, the reigning heavyweight champion of the world, was stirring up all kinds of controversy with the public, partly because he was black. Thus managers and promoters everywhere were making serious money promoting young white heavyweights as the man who could potentially return the championship to the Caucasian race. With Jones as his backer, Willard became one of these men. In 1912 Willard took part in his first two bouts against nationally known opponents, fellow "white hopes" Arthur Pelkey and Luther McCarty. Both fights were ten round no-decisions, though by all accounts the upstart Kansan acquitted himself impressively.

More than any success in the ring, though, it was Willard's size that really drew crowds and spread his name through the rumor mill of the sports world. He stood more than six and a half feet tall and, in good shape, weighed in excess of 220 pounds, dimensions that inspired awe wherever he went, in spectators and opponents alike. Fight fans didn't care that he lost a twenty-round decision to contender Ed "Gunboat" Smith on May 20, 1913; they still packed the house when he fought, just get a glimpse of the hulking "Pottawatomie Giant."

On August 22, 1913, Willard fought the match that would secure his early reputation as a brutal puncher. In Vernon, California, he was matched with another gigantic fighter named William "Bull" Young. Young was not a particularly talented fighter and had already lost to Willard once by this point, but the spectacle of these behemoths going at it generated enough dollars for a rematch. In the second fight, Willard floored his over-matched opponent with a right uppercut in the eleventh round. The next day, Young was dead. The true cause of death had been the cerebral hemorrhage caused by his head hitting the floor in the eleventh, but the press attributed the tragedy to Willard's punching power. Willard himself was devastated. He never enjoyed boxing to begin with but now "I hated it as I never hated a thing previously." Still, the paychecks were getting bigger and he had mouths to feed.

After beating charges of second-degree murder for his part in the Young debacle, Willard showed evidence of how traumatic the whole experience had been for him. In his very next match, against over-matched South African George Rodel, whom he outweighed by fifty pounds, Willard fought cautiously and let the bout go the ten round distance, never once throwing his fearsome right hand. Similar performances followed. His star began to fall in the eyes of the public.


White Hope
Looking to capitalize on Willard before there was no more money to be made from him, Jones and others began arranging a match for him against world champion Johnson, who was now exiled from the U.S. because of morals charges brought against him. On April 5, 1915, in Havana, Cuba, under the hot Caribbean sun, Willard took Johnson, who had not lost a prize fight in nearly a decade. Organizers scheduled the bout for forty-five rounds, the last prize fight ever scheduled at such a length. The champion did not take Willard seriously and failed to train properly, but was still possessed of wily cunning in the ring and knockout power in both fists. He attacked the challenger viciously in the opening rounds, but Jack showed both poise and toughness in surviving. As the rounds passed however, the older Johnson's energy clearly waned under the weight of Willard's blows and the Havana heat. Caught by a big Willard right in the twenty-sixth round, Johnson sagged to the floor and was counted out on his back. Though Johnson later claimed to have thrown the fight in a deal with the promoters, most historians disbelieve this. Either way, Jess Willard was the new and unexpected heavyweight champion of the world. (Willard then immediately vowed he wouldn't fight a black man again, in order to maintain "peace between the races." [1])

Having proven himself the most successful of the "white hopes," Willard became an instant sensation throughout the United States. A celebrity of the first rank, he was booked by Hollywood movie producers to star in film serials as an adventurous cowboy. He appeared in vaudeville performances as the Victoria Theatre in New York, and toured with multiple wild west shows, most famously Buffalo Bill's Wild West Show. Jess disliked public life, but not as much as he disliked boxing. The publicity brought him money without having to fight and so he reluctantly embraced his popularity until, largely because of his inactivity in the ring, it quickly faded.

The new champion made only one defense of the title during his four years as champion, against Pittsburgh's Frank Moran. Like Willard himself, Moran was an unpolished fighter with a hard right hand punch. He had given Jack Johnson a particularly tough challenge back in 1914 and got his second chance at the title at Madison Square Garden in New York on March 25, 1916. Because official boxing decisions were outlawed in New York early in the twentieth century, the fight ended up officially a no-decision after it went the ten round distance. The newspapers reported that Willard had given the better account of himself, though, and deserved the win.


The Dempsey Fight and Later Years
Though his popularity quickly faded, particularly when he seemed to be avoiding top contender Fred Fulton, Willard didn't seem to mind. He liked the privacy and had made enough money in his previous fights to live for awhile without worry. In fact, he developed a not undeserved reputation as a cheapskate when he repeatedly rejected requests to box for war-related charities during WW1. Not until 1919, under pressure from the public and his handlers, and running low on cash, did he accept a bout with Jack Dempsey, a hard-hitting former hobo out of Colorado. Though Dempsey was coming off of a streak of six consecutive first round victories, Willard was the betting favorite because of his great size advantage over the challenger. When they entered the ring on July 4, 1919 in a specially built stadium in Toledo, Ohio, the champion outweighed his challenger by nearly sixty pounds. The size advantage was quickly turned into a disadvantage by Dempsey however. In the first round he floored Willard seven times. By the close of the round, Willard was suffering from a cracked skull, shattered jaw, missing teeth, and broken ribs. His face was a mask of blood from a cut across his cheek. When the bell closing the first ended, Dempsey sauntered victoriously out of the ring, mistakenly taking it for granted that Willard had been through enough. Dempsey had to be called back into the ring by his manager, Doc Kearns, who had been astonished to learn that Willard had no intention of quitting. After taking the worst beating that any heavyweight champion had ever incurred in the ring, Willard, amazingly, fought on through the second and third rounds. Though Dempsey tried desperately, he could not floor the determined champion again. But, before the fourth round could begin, big Jess had endured too much pain from the wounds of the first and retired on his stool.

Living in privacy and avoiding the ring for another three years, Willard did not return to boxing until 1922. Again after some quick money, he resolved himself to securing a championship bout. Along those lines, he boxed several exhibitions in 1922 and returned to prizefighting the next year. With an eleventh round stoppage of up-and-coming Floyd Johnson on May 12, 1923, Willard prompted many sport writers to hail his return and speculate about a return bout with Dempsey. Those hopes were dashed two months later when Luis Angel Firpo, a big, young Argentinean slugger, knocked him senseless in the eighth round. Willard never fought again. In later life he was a reasonably successful businessman, involved in both the real estate and super market trades. He also refereed professional wrestling matches and, during World War II, appeared in USO shows. He died on December 15, 1968, at age 87.
Sources
Trivia
It was said in a August 5, 1932 "Strange As It Seems"" newspaper column by John Hix that Willard's professional debut was in a small church, in a boom railroad town near Pocatello, Idaho, USA. Town Officials frowned on prize-fighting, so Willard rented a seldom-used church for his training quarters. His opponent was Jack Drumgool of Salt Lake City, Utah, according to Mr. Hix. Willard won by a TKO in the fifth round when the bout was stopped. This bout has not been put into Willard's Fight Record as it cannot be verified and likely never happened.
Exhibition Bouts
1911

Apr 11 Patsy Corrigan El Reno, Ok Exh
Apr 11 Frank Mayo El Reno, Ok Exh
Apr 11 E.A. Cruse El Reno, Ok Exh

Circa 1916, Seattle, WA: Willard boxes Seattle's Ed Hagen twice, while performing with the Sells-Floto circus (but refuses to take on Frank Farmer, who had worked in Willard's training camp immediately before his title bout with Jack Johnson).
Hollywood Legion Stadium, Calif., Nov. 15, 1922: Willard boxes four exhibition bouts, including opponents Tom Kennedy and Joe Bonds.
Milwaukie, OR, USA, Dec. 19, 1922: Willard, 265, EXH-2 Scotty Messer, 180 (of Tillamook, OR); K-1(2) Jim Borden
Yakima, WA, USA - Dec. 27, 1922: Willard, 265, EXH Frank Farmer, 178 (of Tacoma); EXH Alden Schumacher
Tacoma, WA, USA - Dec. 28, 1922: EXH-Frank Farmer

Use the Search Box on every Encyclopedia page here to find Willard's exhibition bouts: [2]
Professional Record
Championship Record
May has defeated 2 opponents (1 by KO) for the World Heavyweight Title.
External Links