Charley (Devil) Green
Jump to navigation
Jump to search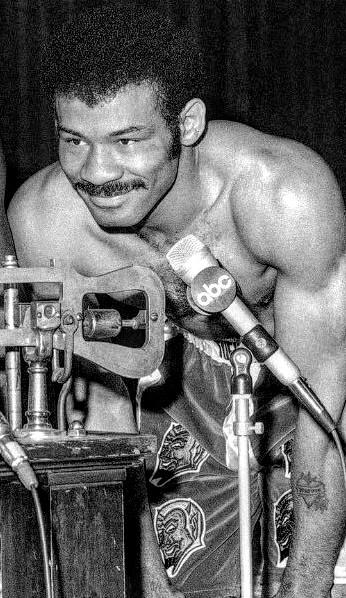 Name: Charley Green
Alias: The Devil
Hometown: Harlem, New York, USA
Birthplace: Mississippi, USA
Died: 2014-11-28 (Age:75)
Stance: Orthodox
Height: 178cm
Pro Boxer: Record

Birthdate: Some sources list 1939, 1942, 1948

Career Review
Charley Green was known to fight fans as the "Devil." His boxing career brought him to world contention, but his inner demons, caused his life to hit rock bottom.
Green's life is somewhat surrounded in mystery. The Ring Record Book lists his birth year as 1942. However, the New York State Department of Corrections lists it as 1948. Other sources have Green born in 1939. According to an article in the June 1968 issue of The Ring magazine, Green was born on September 1, 1942 in New Orleans.
Green began an amateur boxing career at eleven years old and was coached by his father. While in high school, Green competed in 200 amateur bouts, losing only two. After attending Jackson State College, where he was a star end on the school's football team, Green enlisted in the United States Marine Corps.
Green continued boxing in the Marines and became the base champion. In 1958, Green was medically discharged for being, " unfit for duty due to convulsions, disorientation, loss of consciousness, confusion, blackouts, left frontal headaches and epilepsy grand malady."
Moving to New York City, Green entered the 1964 New York Golden Gloves and won the light-heavyweight sub-novice championship. Green said he turned professional on May 21, 1966. He soon became known for his punching power. Green earned a world top-10 ranking in the light-heavyweight division with upsets knockouts over title contenders Frank DePaula and Ray Anderson.
Green also worked at DOM, a Greenwich Village disco as a bouncer and in 1967 became the club's manager. In 1968, Green was managed by Gil Clancy and Howard Albert, and was trained by Harold Weston, Sr. When Green knocked down former world light-heavyweight champion Jose Torres, then lost by a controversial 2nd round knockout, Green became one of the best known boxers in the world.
His "fame" brought out his "Devil" and he started hanging out with the wrong crowd and abusing drugs. His days as a contender ended following his 10th round knockout to former 2-time heavyweight champion of the world, Floyd Patterson.
Green continued to box on and off for another 5 years. He earned money as a sparring partner for heavyweight contender Jean-Pierre Coopman. But, mostly, Green was nothing more then a stepping stone for upcoming prospects. Green was knocked out in 2 rounds by future heavyweight king Larry Holmes.
Life wasn't sweet for the "Devil." He started hanging around Harlem cocaine dens. In September 1983, Green appeared on an air shaft of the 15th floor of a law office in downtown Manhattan. He was shirtless and snorting cocaine out of a plastic bag, and threatening to jump. It took at least a dozen police and firefighters to subdue him in a wild brawl.
Green was then arrested and charged in a triple-murder and two counts of attempted murder. Green was convicted of murdering Phyllis Rodgers, Craig Carr, and Elliot Williams in a Harlem apartment which was described as a Cocaine Den.
According to one of the victims who survived, she said that Green appeared at the door with a gun and demanded to know where the money and cocaine where. She said, " Green put down a free-basing pipe and announced, You are all going to die tonight." Then, she said, Green grabbed Craig and shot him. Then grabbed Elliot and shot him.
Green, who says he is innocent, was found guilty and sentenced to 45 years-to-life for the murders. He is currently in the maximum security prison in Shawangunk, New York.
Green reportedly is being treated for cancer, but claims he is not. He still maintains that he is innocent of the murders.
Sources
The Sweet Science: THE DEVIL AND CHARLIE "DEVIL" GREEN, by Robert Mladinich.
Ring Magazine, June 1968, pages 28 and 41: OQUENDO, GREEN CLIMBING LIGHTHEAVYWEIGHT LADDER, by Freddie Eisenstadt.