Harry Wills
Jump to navigation
Jump to search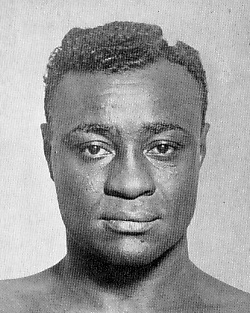 Name: Harry Wills
Alias: Black Panther
Hometown: New Orleans, Louisiana, USA
Birthplace: New Orleans, Louisiana, USA
Died: 1958-12-21 (Age:69)
Stance: Orthodox
Height: 188cm
Reach: 213cm
Referee: Record
Pro Boxer: Record


Harry Wills was a heavyweight contender during the late 1910s and 1920s. He was widely seen as World Heavyweight Champion Jack Dempsey's top contender. Wills was unable to secure a title shot due to the controversial color line in boxing, which prevented men of color from fighting for the heavyweight title.
Wills held the World Colored Heavyweight Championship and fought the best black fighters of the era. He fought Sam Langford 18 times, Sam McVea 5 times, Battling Jim Johnson 4 times and Joe Jeannette twice.
Jack Johnson became the first black man to fight for the heavyweight title in 1908, and he made the most of his opportunity, dominating champion Tommy Burns and stopping him in fourteen rounds. After Johnson lost his title to White Hope Jess Willard in 1915, it would be twenty-two years before another black man got a shot at the heavyweight title.
After Dempsey beat Willard for the title in 1919, he announced that he would draw the color line. Dempsey's promoter, Tex Rickard, wanted nothing to do with a mixed-race fight. He promoted the Jack Johnson vs. James J. Jeffries fight in 1910, which resulted in deadly riots following Johnson's win. Rickard said would he would never again promote such a fight.

During Dempsey's title reign, pressure mounted for him to defend against Wills. In a poll conducted by more than 500 newspapers, Wills was picked as the boxer the public most wanted to see Dempsey fight. Wills got 131,073 votes. Tommy Gibbons finished second, trailing by about 6,000 votes.
On May 1, 1924, Rickard announced that Dempsey and Wills would fight at Boyle's Thirty Acres in Jersey City, New Jersey, on September 6. Rickard then made a counter-announcement on July 5, stating that Dempsey would not fight in 1924.

On March 6, 1925, the New York State Athletic Commission issued an ultimatum that Dempsey must agree to fight Wills within twenty-four hours. When that didn't happen, Dempsey was barred from fighting in New York State. Rickard said he received a hint from Governor Al Smith that such a match wasn't desired, but James A. Farley, chairman of the commission, emphatically denied the report.

"I would have fought Wills," Dempsey told the New York Post in 1953, "but nobody would promote it. When Wills challenged, Tex Rickard would have nothing to do with the fight. He said he had instructions from Washington not to promote a mixed[-race] bout for the heavyweight title."
In September 1925, Dempsey and Wills traveled to Benton Harbor, Michigan and signed for a 1926 title fight with promoter Floyd Fitzsimmons. Wills received $50,000 as his guarantee for signing the contract. Dempsey was to receive $125,000. Unfortunately, the fight never happened. This is what Dempsey wrote in a 1950 Ebony article:
"The facts clearly show that in 1926 I tried desperately to arrange a fight with Harry Wills but the deal collapsed when my guarantee was not forthcoming. Wills and I had signed to fight with a promoter named Floyd Fitzsimmons of Benton Harbor, Michigan. Wills, I understand, received fifty thousand dollars as his guarantee for signing the contract. I was to have received one hundred and twenty-five thousand dollars in advance of the fight. As the date of the fight grew nearer and my money did not appear, I became anxious and asked Fitzsimmons what was the matter. He wired me to meet him in Dayton, Ohio, assuring me that he would have the money for me there. I met Fitzsimmons in Dayton who handed me a certified check for twenty-five thousand dollars and a promise to let me have the balance almost immediately. I balked at that, demanding the full amount right away. Fitzsimmons tried to placate me by calling the bank where he said he had deposited the money. The bank, unfortunately for Fitzsimmons, informed him that it did not have that much money on hand, that there wasn't enough to cover the twenty-five thousand dollar check he had given me. Furious, I returned the check to Fitzsimmons and told him the fight was off. Later, the Fitzsimmons syndicate financing the fight sued me for failure to honor a contract. I won the case."
Dempsey lost the title to Gene Tunney in Philadelphia, Pennsylvania in September 1926. The following month, 34-year-old Wills lost to Jack Sharkey. All talk of a Dempsey-Wills fight was now over.

Wills retired from boxing in 1932 at the age of 43. He invested his ring earnings in real estate and became a successful businessman. Wills died from diabetes on December 21, 1958. He left an estate valued at over $100,000, including a 19-family apartment building in upper Harlem.
Notes
Wills was called both "The Black Panther" and "The Brown Panther."
In his second year as a professional, Wills served as a sparring partner for World Heavyweight Champion Jack Johnson when Johnson was training to fight Fireman Jim Flynn on July 4, 1912. The Kansas City Star reported that in a June 9 sparring session, Wills "did his best, but his best was not much, and Johnson called for Marty Cutler after Wills had been on duty for three rounds."
Sources