Dave Deshler
Jump to navigation
Jump to search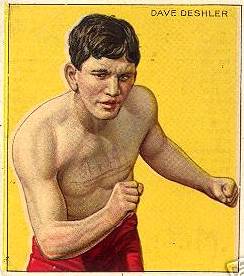 Name: Dave Deshler
Birth Name: David W Deshler Jr
Hometown: Boston, Massachusetts, USA
Birthplace: New Brunswick, New Jersey, USA
Height: 160cm
Pro Boxer: Record

Division: Lightweight
Exact day of birth unknown Birth/Name info from 1900 & 1910 census records.
Fight record was compiled by Paul Zabala and is courtesy of the International Boxing Research Organization. IBRO Journal #79, Page 44. Boston Globe research courtesy of Luckett Davis.