Jack Sharkey
Jump to navigation
Jump to search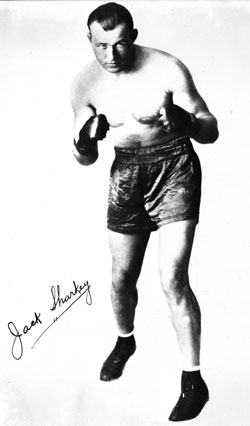 Name: Jack Sharkey
Alias: Boston Gob
Birth Name: Joseph Paul Zukauskas
Hometown: Boston, Massachusetts, USA
Birthplace: Binghamton, New York, USA
Died: 1994-08-17 (Age:91)
Stance: Orthodox
Height: 182cm
Reach: 183cm
Pro Boxer: Record

Division: Heavyweight
Trainer: Tony Polazzolo
Manager: Johnny Buckley
Annotated Fight Record
Photo (with megaphone)
Biography
Jack Sharkey was in the navy and became heavyweight champion of the Atlantic Fleet before launching his professional career in 1924. Despite a few early defeats he rose rapidly and made a name for himself by defeating two famous African American heavyweights, Harry Wills and George Godfrey. He fought Jack Dempsey after Dempsey had lost his heavyweight title to Gene Tunney and was winning until the seventh round when he left his jaw unprotected while complaining to the referee about low blows; seeing his chance Dempsey landed a knockout punch.
Sharkey recovered from this defeat to beat several contenders including Young Stribling, Phil Scott, Jack Delaney, and Tommy Loughran. He then fought Max Schmeling for the vacant heavyweight title but lost on a foul. After being held to a draw by middleweight Mickey Walker, Sharkey defeated Primo Carnera and then won the title from Schmeling in a rematch. He then lost the title to Carnera. Later, in a comeback, he was knocked out by Joe Louis.
Sharkey was known for being temperamental. With a steadier disposition he might have achieved still more in the ring than he did.