Jimmy Wilde
Jump to navigation
Jump to search
Name: Jimmy Wilde
Alias: The Mighty Atom
Birth Name: William James Wilde
Hometown: Tylorstown, Wales, United Kingdom
Birthplace: Quakers Yard, Wales, United Kingdom
Died: 1969-03-10 (Age:76)
Stance: Orthodox
Height: 159cm
Reach: 168cm
Referee: Record
Pro Boxer: Record


Jimmy Wilde, commonly nicknamed "The Mighty Atom," was so frail-looking and white that he was also referred to as "The Ghost with a hammer in his hand." His other nicknames included "The Indian Famine" and "The Furious Freak."
He was at his best fighting weight at 6 stone 10lbs. Historian Gilbert Odd wrote in Boxing News, April 4, 1969:
"He came in at a time when flyweights were plentiful and competition extremely high. Never made 8st in his fighting life!
"Record books show he started in 1911 but it is taken for granted that he had been fighting professionally for at least 4 years before that. 100s of his bouts , fought on the top spit to an audience of miners on pay night or in the Saturday night booth run by "Professor" Jack Scarrott on the vacant piece of land at the top of the street took place before anyone thought of recording contests. Even printed record is not complete. Wilde's claim that he had at least 800 fights is probably greatly exaggerated, but it was a great deal more than the 139 listed. Never suffered hand injuries. Never put a bandage on until he fought in London. Thought it cramped the fist. Never had a lesson in his life bar the few in his bedroom from Dai Davies, the father of the girl he was courting. Was married and a father by 1912. In 1916 joined the army and was sent to Aldershot as PT instructor. At 29 after such continued and strenuous activity, his natural fighting instincts deserted him when he fought Pete (Kid) Herman. Retired for 2 & half years; came back disastrously."
The Ring Biography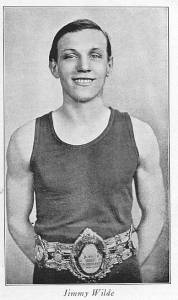 The January 1941 The Ring magazine published a retrospective on Wilde. He had been born at 8 Station Road, Pontygwaith, Tylorstown, Wales, in 1892. He was the son of a miner and became a miner, too. Married at age 18, he became a booth fighter, taking on men weighing as much as 12 stones (170-pounders), and amassing a reported record of some 864 bouts. He first came into prominence in 1912 when he beat Billy Padden for the English Paperweight Title.
Fighting Style: (according to Jan. 1941 The Ring):
"Wilde's strength and his hitting power, considering his size and weight, were simply amazing. He was a highly skilled boxer and the power of his punches was almost magical.
"Wilde always believed in avoiding any tactics that would reduce his stamina, hence instead of blocking the blows of his opponent, he had a knack of sidestepping an inch or two when the delivery was made and invariably got out of their range. The only time in his entire career where this method could not be used with effect was in his bout with Pancho Villa, but in that contest Jimmy met a boy who was just coming while Wilde, the champion, had already seen his best days.
"His sense of distance was uncanny. He could stand within range of a blow when it started but when an opponent let it loose, a little jerk of the head or the body and the punch landed in space.
"Always on his toes, his body executing a wavelike motion, his gloves resting on his hips without a semblance of a guard, his knees slightly bent, he proved a bewildering subject for any opponent. He always kept his man guessing, feinted him into knots and then connected with his terrific right, said to be the heaviest punch ever delivered by a fellow his weight. These are the qualities which Jimmy Wilde possessed and which enabled him to take his rank among the truly great Supermen."
He saved his ring earnings and lived quite well. He became President of the National Union of Boxers, and wrote an autobiography, Fighting Was My Business.
Death
According to a report in the Ring Magazine, in 1965, Wilde was at a train station waiting for a train, when he was attacked and brutally beaten by a gang of young men. Certain reports describe the attack as a mugging, while other reports said there was a confrontation between the ex-champion and the youths. Regardless, Wilde was so badly beaten, that he ended the last 4-years of his life in a hospital bed.
Service Fights
During the First World War Wilde participated in an amateur competition for servicemen.
1918-12-12 102 Memphis Pal Moore 116 Royal Albert Hall, Kensington, London, United Kingdom L PTS 3 3x3 Final ISBA King's Trophy Bantamweight Competition Weights according to Moore, with Wilde fully dressed, were 117 Moore, 114 Wilde.
1918-12-11 Joe Lynch Royal Albert Hall, Kensington, London, United Kingdom W PTS 3 3x3 1st Series ISBA King's Trophy Bantamweight Competition
1918-12-11 Digger Evans Royal Albert Hall, Kensington, London, United Kingdom W PTS 3 3x3 Semi-final ISBA Kings's Trophy Bantamweight Competition
---
Measurements:
Height: 5 feet 2"
Reach: 68 inches
Chest (normal): 32"
Chest (expanded): 34"
Neck: 12"
Thigh: 15"
Waist: 22"
Calf: 10"
Ankle: 8"
Biceps: 10"
Forearm: 10"
Wrist: 6"
---
Moved to 8 Station Road, Pontygwaith in 1895
Worked in Tylorstown Colliery, in 1904, age 12
Married to Elizabeth in 1909
Left Tylorstown Colliery in 1913
Died in a hospital near Cardiff; Interred: Barry Cemetery
CyberBoxingZone Record: [1]