Joe Choynski
Jump to navigation
Jump to search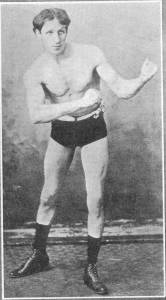 Name: Joe Choynski
Alias: Chrysanthemum Joe
Hometown: San Francisco, California, USA
Died: 1943-01-24 (Age:74)
Stance: Orthodox
Height: 180cm
Pro Boxer: Record

Manager Tim McGrath
Photo, circa 1905
Photo #3, Photo #4

Joseph Bartlett Choynski (coy-en-ski) was one of the top-rated pugilists of the late 19th and early 20th centuries. Usually fighting at around 165-170 pounds he is considered one of the first outstanding light heavyweights. Choynski fought draws with Jim Jeffries, who outweighed him by 50 pounds, Kid McCoy and Tom Sharkey. His greatest victory came in 1901 when he knocked out future heavyweight champ Jack Johnson in three rounds. After the fight the two were arrested for staging an illegal bout. While in jail, Choynski tutored Johnson in many of the tricks of the trade that he had learned. Ironically it was Choynski who helped train Jim Jeffries for his comeback fight against Johnson. In retirement, Choynski toured with Peter Jackson in a production of "Uncle Tom's Cabin" and consulted on the production of the Jim Corbett biopic "Gentleman Jim."
Choynski's father was a writer, and his mother a musician.
After his fighting career, Choynski became a boxing instructor in Chicago and Pittsburg. [1]
Record courtesy of CyberBoxingZone.com and Matt Tegen, boxing historian and BoxRec.com Editor.
External Links