John Connors
Jump to navigation
Jump to search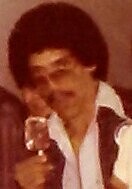 Name: John Connors
Hometown: Miami, Florida, USA
Pro Boxer: Record

Trainer: Sully Emmett
Height: 6 feet 1 inch.
Weight: 194lbs.
Stance: Southpaw
Biography
John "Soul Brother" Connors was a South Florida club-fighter, best known for being the first man to knockdown undefeated heavyweight Al Migliorato.
Connors was working as a dishwasher at Howie's Bar on 5th Street and Washington Avenue in Miami Beach with Ron Casey and James Youngblood. Migliorato had beaten both Casey and Youngblood, and Connors wanted to "avenge" his friends defeats.
On December 11, 1973 in the Miami Beach Auditorium, Connors knocked down the highly touted Migliorato (25-0-2) in the opening moments of their scheduled 6-rounder. Migliorato arose at 9, and came back to knockout Connors moments later.
Three years later, Conors had an unsuccessful comeback. He was KO'd in 1-round to Henry Hall.