Ken Norton
Jump to navigation
Jump to search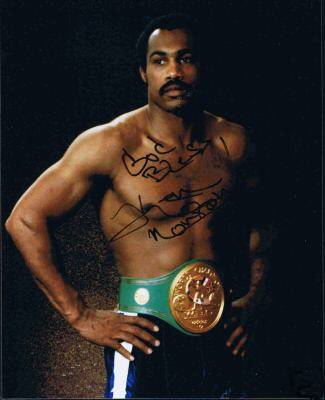 Name: Ken Norton
Birth Name: Kenneth Howard Norton
Hometown: San Diego, California, USA
Birthplace: Jacksonville, Illinois, USA
Died: 2013-09-18 (Age:70)
Stance: Orthodox
Height: 191cm
Reach: 203cm
Pro Boxer: Record
Amateur Boxer: Record


Kenneth Howard Norton is a former WBC Heavyweight Champion. He is best known for his trilogy with three-time World Heavyweight Champion Muhammad Ali.
Norton was born August 9, 1943, in Jacksonville, Illinois. He was an outstanding athlete at Jacksonville High School, participating in baseball, basketball, football and track. Norton was a member of the state championship football team and was selected to the all-state team on defense as a senior. His track coach regularly entered him in eight events. During a meet in the spring of 1961 against a powerhouse Decatur Eisenhower squad, Norton won six events and placed second in the other two. That result, and the vehement protests of the opposing coach, prompted the Illinois High School Association to adopt the "Ken Norton Rule," which limits participation of an athlete to a maximum of three track and field events.
After graduating from high school, Norton went to Northeast Missouri State University (now Truman State University) on a football scholarship and studied elementary education. His play in football was hampered by a shoulder injury during his first year. During his sophomore year, still hampered by the shoulder injury, Norton walked away from football and decided that college was not for him. He joined the United States Marine Corps in 1963. Norton said, "I believe the Marine way of life and thinking was the genesis of positive thinking for me." He also stated that academics should have been his No. 1 priority, not sports, and he would tell young people to get their education first. In an interview with ESPN in 1985, Norton said that after serving in the Marines he more than likely would have went back home, finished college and would have been a teacher or a policeman if he had not taken up boxing.
Norton started boxing while he was in the Marines. He compiled an amateur record of 24-2 and won the All-Marine Heavyweight Championship three times. Norton won the U.S. trials for the 1967 Pan American Games, but another heavyweight was selected to represented the U.S. at the Games. Norton was told that his style, which included a "crab style" cross-armed defense similar to Archie Moore, was not "international" enough. Norton never fought as an amateur again and turned professional in late 1967.
After sixteen straight wins, Norton suffered his first professional loss when he was knocked out in eight rounds by Jose Luis Garcia in 1970. After the Garcia fight, Norton started to see Dr. Michael Dean, a hypnotist. Dr. Dean gave Norton a book that changed his life, Napoleon Hill's Think and Grow Rich, which has been called the "Granddaddy of All Motivational Literature." Norton said, "I must have read that book 100 times while in training, and I became a stronger person for it." Shortly before he passed away, Norton stated "Think and Grow Rich changed my life dramatically. I was going to fight Muhammad Ali. I was a green fighter, but yet I won, all through reading this book." Norton also took a complete course by Napoleon Hill on gaining wealth and peace of mind. "It can be related to anybody, to be the best in a career, to think positive," said Norton.
After the loss to Garcia, Norton won thirteen consecutive fights and then fought Muhammad Ali for the NABF Heavyweight Title in 1973. Norton, a 5 to 1 underdog, fractured Ali's jaw and won by a twelve-round split decision. They fought again six months later, and Ali won by a twelve-round split decision.
Norton fought George Foreman for the World Heavyweight Championship in 1974. Foreman won by a second-round knockout to increase his record to 40-0 with 37 knockouts.
In 1975, Norton stopped veteran contender Jerry Quarry in five rounds to regain the NABF Heavyweight Title. In his next fight, Norton avenged his 1970 loss to Jose Luis Garcia with a fifth-round knockout.
In 1976, Norton won three consecutive bouts on national television: He stopped Pedro Lovell in five rounds, Ron Stander in five and Larry Middleton in ten. In a newspaper article dated March 12, 1976, Norton credited Napoleon Hill's philosophy for his success. To quote from the article: "Norton says he's a believer in Napoleon Hill's philosophy, that a person can do anything he puts his mind to. 'So I train for my fights,' he says, 'mentally as well as physically. One thing I do is only watch films of the fights in which I've done well or in which my opponent has done poorly.'"
Norton fought Ali for the third and final time on September 28, 1976. Ali, who regained the World Heavyweight Championship from George Foreman two years earlier, retained the title with a controversial fifteen-round unanimous decision. The January 1998 issue of Boxing Monthly listed Ali-Norton III as the fifth most disputed title fight decision in boxing history.
In 1977, Norton knocked out previously unbeaten Duane Bobick in one round and defeated Jimmy Young by a fifteen-round split-decision in a WBC title-eliminator. With the win over Young, Norton became the mandatory challenger for the winner of the upcoming fight between Ali and Leon Spinks. Spinks defeated Ali for the World Heavyweight Championship, but instead of making his first defense against Norton, Spinks chose to have an immediate rematch with Ali. As a result, the WBC stripped Spinks of the title and awarded it to Norton by virtue of his victory over Young.
Norton made his first defense of the WBC title on June 9, 1978, against Larry Holmes and lost by a fifteen-round split decision. With the loss, Norton became the only World Heavyweight Champion never to win a world title fight. Holmes went on to be champion for seven years. Only Joe Louis and Wladimir Klitschko have had a longer reign as World Heavyweight Champion.
Holmes vs. Norton is considered one of the greatest heavyweight fights of all-time. The 1996 Holiday Issue of The Ring listed the fight 23rd on the list The 100 Greatest Title Fights of All-Time, and the fight is ranked as the tenth greatest heavyweight fight of all-time by Monte D. Cox, a member of the International Boxing Research Organization. The September 1998 issue of The Ring listed the final round as one of the "12 Greatest Finishes of All Time," and the March 2001 issue of The Ring listed the final round seventh on the list The 12 Most Exciting Rounds In Boxing History. In a 2009 interview on ESPN SportsNation, Holmes said his bout with Norton was his toughest fight.
In 1979, Norton fought Earnie Shavers in a WBC title-eliminator and was knocked out in the first round. In his next fight, Norton fought a ten-round draw with Scott LeDoux. Norton had a big lead through seven rounds, but he faded late after taking a thumb in the eye and was knocked down twice in the final round.
Norton retired after the LeDoux fight, but he returned in 1980 and defeated previously unbeaten Randall (Tex) Cobb by a ten-round split decision. The following year, Norton fought Gerry Cooney, who was ranked #1 by the WBA and WBC. Cooney brutally knocked Norton out in the first round, and Norton retired for good.
Norton worked as an actor and TV commentator following his retirement from boxing. He also was a member of the Sports Illustrated Speakers Bureau and started the Ken Norton Management Co., which represented athletes in contract negotiations. Norton continued making TV, radio and public speaking appearances until suffering injuries in a near-fatal car accident in 1986. It left him with slow and slurred speech.
On the night of February 23, 1986, Norton's car crashed off the Vermont on-ramp to the Santa Monica Freeway in Los Angeles, leaving him with a fractured skull, jaw and leg, and absolutely no recollection of what happened. Investigators determined that neither drugs nor alcohol were involved. For a time, there was speculation that another car had crowded his off the ramp, but there were no witnesses and no evidence of that was ever found.
Through it all, Norton remained a positive thinker and would not accept any prognosis but his own. His doctor told him he would not walk or talk again after the accident, but Norton refused to accept any prediction that did not include what he visualized. Norton said, "At first they thought I might die, and if I didn't die, I wouldn't be coherent. Now I'm talkin' and walkin' and I can even chew gum at the same time."
Norton was inducted into the International Boxing Hall of Fame in 1992.
Norton's autobiography, Going the Distance: The Ken Norton Story, was published in 2000. Norton released another book in 2009, Believe: Journey from Jacksonville, which is about his life following his near-fatal car crash.
In his final years, Norton had numerous health problems: He had prostate cancer, a heart attack, quadruple bypass surgery and suffered two strokes. Norton died from congestive heart failure on September 18, 2013. He was 70.
Awards & Recognition
Trivia
Norton, a proponent of motivational author Napoleon Hill's writings, received the "Napoleon Hill Foundation Award" for positive thinking in 1973.
Norton was named "Father of the Year" by The Los Angeles Sentinel, The Los Angeles Times and the West Coast Father's Day Committee.
Norton starred in several movies and was a TV and radio boxing analyst. He also appeared on numerous TV series, including a 1983 episode of The A-Team and a 1986 episode of Knight Rider and was a member of the Sports Illustrated Speakers Bureau. Norton continued making TV, radio and public speaking appearances until suffering injuries in a near-fatal car accident in 1986. It left him with slow and slurred speech.
The character of Apollo Creed in Rocky was going to be played by Norton, but he pulled out to participate in the ABC sports competition show The Superstars.
The 1998 Holiday Issue of The Ring ranked Norton as the 22nd Greatest Heavyweight of All-Time.
His son, Ken Norton Jr., became a star linebacker in the National Football League, winning two Super Bowls with the Dallas Cowboys and one with the San Francisco 49ers. In 2014, he won another Super Bowl ring as the linebackers coach for the Seattle Seahawks.
Quotes
"What the mind can conceive, the body can achieve."
"Whatever you do in your life, always go the distance."
"I am thinking only of the present. I deal with life as it goes. Sometimes you're dealt a good hand, and sometimes you get a bad one."
"Age is a state of mind."
"The most important thing to remember for you youngsters out there with an interest in sports, or boxing in particular, is to get your education."
"Everyone in life should have a goal, and they should try and complete it. And if you don't reach it, keep trying. Never give up. By trying, the person wins."
"Of all the titles that I've been privileged to have, the title of 'dad' has always been the best."
"In boxing, and in all of life, nobody should ever stop learning!"
"These words (from Napoleon Hill's Think and Grow Rich) were the final inspiration in my victory over Ali: Life's battles don't always go to the stronger or faster man, but sooner or later the man who wins is the man who thinks he can."
"God has a plan for all of us."
"I believe that during my career I never downplayed anyone. And if you treat people correctly, they'll come back."
"I had a lot of help from upstairs-I believe that God helped me out quite a bit."
"I believe more than likely I would have went back home [if he had not become a boxer in the Marines] either finished school [college] and became a teacher or became a policeman."
"After I started exercising again [after retiring from boxing] my energy level went up I'd say 200% and I now feel much better mentally and physically."
External Links
Reference Sources