Luis Angel Firpo
Jump to navigation
Jump to search
Name: Luis Angel Firpo
Alias: El Toro Salvaje de las Pampas
Hometown: Buenos Aires, Argentina
Birthplace: Junín, Buenos Aires, Argentina
Died: 1960-08-07 (Age:65)
Stance: Orthodox
Height: 189cm
Reach: 201cm
Pro Boxer: Record

Division: Heavyweight
Trainers: Jimmy DeForrest, Joe Boykin, Fires DeForrest
Manager: Himself
Luis Angel Firpo Gallery
Career Overview
Although all but forgotten by casual sports fans in the United States, Luis Angel Firpo remains a cultural icon in his native South America to this day. There are statues erected in his honor as well as a professional soccer team named after him, all primarily because of a few seconds of glory he experienced in the ring with the legendary Jack Dempsey in 1923. Strong and powerful, Luis showed little true boxing craft in the ring, but size and brute force was enough to allow him to beat some of the highest ranking heavyweights of the 1920s and establish a permanent legacy as an icon of South American sports.

The Wild Bull
Firpo's professional boxing career began in 1917 at age 23 in Buenos Aires. In only his second pro bout he dared to travel to Uruguay and face Angel Rodriguez, undefeated in 24 bouts. Though Rodriguez was a light heavyweight and Firpo weighed more than 220 pounds for the bout, he was easily handled by the more experienced man and did not last through the first round. Firpo's handlers continued to move him along fast, however, and in only his ninth pro fight he was in Santiago, Chile fighting for the heavyweight championship of South America against Dave Mills, who outpointed him over fifteen rounds. That loss was avenged five months later, however, when Firpo knocked Mills out in one round to become the continental champion. Another eight months later, in a third fight, Mills went out in one again. Between February, 1920 and September, 1921, Luis pulled off seven consecutive victories, six by knockout, against various fighters in both Argentina and Chile.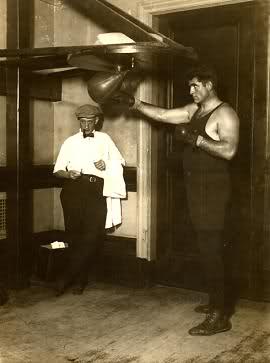 An intelligent man, Firpo was an anomaly in the business side of boxing in that, even when he was at his most successful, he insisted on being his own manager. It was he who decided to move his career to New York in the United States, the Mecca of boxing at the time. His first bout on American soil took place on March 20, 1922, in Newark, New Jersey. His opponent was one Tom Maxted. Maxted, who had only had two previous bouts, was knocked out in the seventh. A couple weeks later Tom McCann, a veteran of a whole one fight, lasted five. But it wasn't Firpo's skill or his opponents that were attracting fans. The press and public were abuzz about Firpo's size. He was a square-shouldered slab of mass who, at over six feet, two inches tall towered above most men of his generation. He drew crowds more as a freak show than as a prize fighter, but audiences loved to gawk at him and he became a draw in the New York area. Thus he came to the attention of Tex Rickard, the foremost promoter in boxing at the time, who looked to cash in on rising interest in the fighter by pitting him against other big names. On March 12, 1923, Firpo was matched with his first world class heavyweight, former title challenger Bill "K.O." Brennan, a hard-hitting fighter who was also a big draw in New York and had twice fought Dempsey. Though over-the-hill as fighters go, Brennan was still a tough character. Still, Firpo's strength and power proved too much and K.O. Brennan was knocked-out himself in the twelfth round.


After a quick demolition of overmatched Jim Hibbard in Brooklyn, Firpo was matched with undefeated Jack McAuliffe II at Yankee Stadium. Though McAuliffe was a near novice and Firpo had yet to take on a prime heavyweight contender, the Argentinean sensation (with help from the Rickard promotional machine) still managed to attract an amazing 80,000 fans to watch the fight. In June 1923, Luis knocked two fighters of little significance in two rounds each in a period of one week before returning to New Jersey for his most anticipated fight yet. The genius Rickard had put together a bout between Firpo and Jess Willard, the former heavyweight champion who stood over six and a half feet tall and was attempting a comeback. Rickard billed the fight as the "Battle of the Giants" and hinted to the press that the winner would get a shot at Dempsey's championship. On July 12, 1923, somewhere between 75,000 and 85,000 people showed up at Boyle's Thirty Acres in Jersey to see these goliaths clash. The younger, hungrier Argentinean, though lacking ring finesse, was the obvious aggressor from the start. He constantly charged Willard, shoving him, wrestling with him, and, most importantly, whacking him with his big right hand. Willard's face was already misshapen and bruised going into the eighth round. When Firpo caught him with a series of heavy shots, culminating with another punishing right, in that round, the ex-champion collapsed onto his hands and knees. Though Big Jess tried to rise, at forty-two years of age he could not muster the strength. The referee finished his count and Luis Firpo had won the biggest fight yet in his career.

Recognizing that Firpo's size would only hold the public imagination for so long, Rickard and was etermined to make as much money off of him as quickly as they could. During the late Summer of 1923, Luis fought four times in three weeks, mostly in rural areas where sights like Firpo were unusual enough to create major news. The best of his four opponents was Charley Weinert, an experienced contender, who Luis knocked out in just two rounds in Philadelphia on August 13, 1923.


The Dempsey Fight
Firpo was now a ranked heavyweight contender and the biggest draw in boxing outside of the champion Dempsey himself. For promoter Rickard a match between this pair was the obvious choice for Dempsey's next title defense. The fight took place on September 14, 1923 at the Polo Grounds in New York, before 80,000 fans who saw one of the wildest, most fearsome slugfests in the history of championship boxing. The excitement started with the opening bell, as both men charged forward at each other and collided at ring center. With the first body punch landed in the fight, a right hand from Firpo, Dempsey sagged to the floor, his knees briefly touching the canvas. Up before the referee could begin counting, Jack tore into the challenger with a single left hook that sent Firpo crashing to the canvas. The brave challenger rose and fought back but was felled again only seconds later. When Firpo got up from this knockdown too the champion was not discouraged but tore in even more violently, scoring with a left hook to the jaw that produced a third knockdown, with two more soon to follow. Then, as the close of the round neared, Firpo, fighting solely on instinct, rushed the champion back to the ropes. There he landed a monstrous right haymaker that caught Jack in jaw. Senseless, Dempsey fumbled against the ropes limp. With a slight shove from the challenger, Jack went tumbling out of the ring onto a press table at ringside. As the referee rushed to the ropes and began his count, Dempsey clambered back into the ring. Just as Jack made it back into the ring, the round ended. In the second round, after two more knockdowns, Firpo was counted out. Later that night, Firpo celebrated his $156,250 payday by with a massive spaghetti dinner at a New York Italian restaurant.


Later Years & Retirement
Having reached the heights of international acclaim and created front page news the world over, Firpo returned triumphantly to Argentina. Between February and April, 1924 he fought three mediocre opponents in Buenos Aires, winning all of those bouts by knockout. On September 11, 1924, at Boyle's Thirty Acres he fought Harry Wills, his first world-class opponent since Dempsey. The newspapers described the fight as dreadfully boring, a dull affair in which Wills go the better of the action but failed to impress. Wills was better throughout, but decisions were still outlawed in New Jersey, the official result, after twelve rounds, was a no-decision. Two months later, in a bout with Charley Weinert, the story was nearly identical. Again Firpo came into the ring displaying nothing resembling fighting shape. After twelve rounds and another no-decision the general idea was that Weinert deserved to win.

His fighting prime clearly passed him, Firpo's private life became a bigger issue in the papers than his professional life. In 1925, religious lawmakers brought charges against Firpo for bringing a married woman from Argentina to the U.S. for immoral purposes. Additional charges of falsifying details on his immigration papers sealed the deal. Luis preempted deportation by voluntarily returning to Argentina permanently. After a twelve round decision over Italy's Erminio Spalla in Buenos Aires, Luis retired from boxing, focusing instead on his prosperous career as a sports car dealer.

A brief comeback in the mid-1930s ended in 1936 with a humiliating loss to the much younger Arturo Godoy. In later life, Luis was a successful rancher. He lived the rest of his life as the most famous man, outside of the Peron Family, in Argentina, died a multi-millionaire on August 7, 1960, at the age of 65.
Sources
Kahn, Roger. A Flame of Pure Fire: Jack Dempsey and the Roaring '20s.
profile at Cyber Boxing Zone.
Esquire article written by Gene Tunney
Miscellaneous
Firpo's 14 Sept 1923 world title bout with Jack Dempsey made him a huge world-wide celebrity. The photograph, and a George Bellows's painting, of Firpo knocking Dempsey out of the ring is one of the most famous images in boxing history. After this bout, many aspiring boxers of the 1920s and 1930s adopted the moniker of "Young Firpo."
In 1943 Dillon Graham, the Associated Press's Sports Editor, wrote that he had gone through the AP's index card records--which indicated the athletes who had "grabbed" the most newspaper headlines--for the previous 30 years. The top two sports celebrities over the previous 30 years had been Dempsey and Firpo (ahead of even Babe Ruth). 6 Feb 1943 Tacoma News Tribune (Tacoma, WA, USA) wire report.
By 1937 Firpo had been a Buenos Aires automobile saleman for several years. In 1936 he was "acquitted of an old charge of complicity in a fake ranch auction. Lately, on an appeal from the Banca de la Nacion, he was rearrested." November 8, 1937 Life magazine, page 110.
Firpo had a cousin (some newspaper reports say brother) named Emil Firpo, who became a popular professional wrestler in the United States. (See a photo of him in the 4 April 1930 Daily Olympian (Olympia, WA, USA).) According to the 17 July 1928 Wenatchee Daily World (Wenatchee, WA, USA), Emil, aged 29 then, was Luis's brother. At this time Emil Firpo was living in Seattle, WA, and wrestling as "Carl Delvos." He had come to the United States seven years earlier, enlisted in the 47th Infantry in 1923 at New York City, and mustered out of the military at nearby Camp Lewis, WA, after 18 months of service. He had engaged in 70 wrestling matches, and lost only four.
Even today, a soccer team is named after him.