Madison Square Garden
Jump to navigation
Jump to search
Manhattan, NY, USA
There were four versions of Madison Square Garden (originally named the "Harlem Railroad Depot," then the "Grand Roman Hippodrome"), which is often proclaimed "The Mecca of Boxing" by boxing pundits to this day.

1) The first version of the building known as "Madison Square Garden" existed from 1879 to 1890, at 51 Madison Avenue––from 26th to 27th Street, between Madison Avenue & Park Avenue South (Fourth Avenue). It was the site of the first two versions of the Madison Square Garden buildings.
2) The second version existed from 1890 to 1925.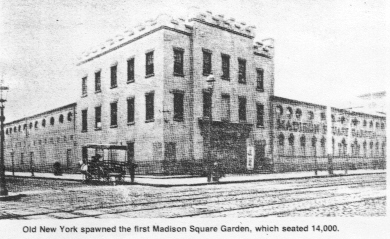 The original Madison Square Garden
Third Madison Square Garden
3) The third version was at 825 Eighth Avenue--on the west side of Eighth Avenue between 49th & 50th Street. It existed from 1925 through 1967. Little is known about the original 1925 boxing ring. A newer boxing ring was installed in 1935 for $8,000. In 1953, it was replaced by a $35,000 ring.
4) The fourth version was at 33rd Street between Seventh & Eighth Avenues, above Pennsylvania Station-- which is the site of the present Madison Square Garden. In September 2007, the boxing ring of this version of Madison Square Garden was donated to the International Boxing Hall of Fame.
---
See also: