Maxie Shapiro
Jump to navigation
Jump to search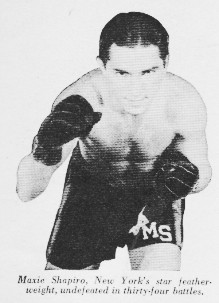 Name: Maxie Shapiro
Birth Name: Max Shapiro
Hometown: New York, New York, USA
Birthplace: New York, New York, USA
Died: 1997-11-22 (Age:84)
Stance: Orthodox
Height: 170cm
Pro Boxer: Record
Amateur Boxer: Record


Shapiro fought eight men who held the lightweight title at some point in their careers, during one of the toughest eras of that division. Considered the last of the great Jewish lightweights who came out of New York's Lower East Side in the 1920s and 1930s, which had included Benny Leonard, Jack Bernstein, Benny Valgar, Sailor Freedman, Sid Terris, Ruby Goldstein, Solly Seaman, Phil Bloom, Sammy Dorfman, Willie Jackson, Joe Glick, Lew Kersch, and others. Shapiro defeated five world champions: Sal Bartolo, Jackie Callura, Phil Teranova, Leo Rodak and the great Bob Montgomery.