Michael Dokes
Jump to navigation
Jump to search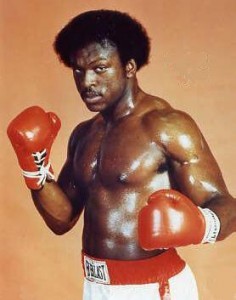 Name: Michael Dokes
Alias: Dynamite
Birth Name: Michael Marshall Doakes
Hometown: Akron, Ohio, USA
Birthplace: Akron, Ohio, USA
Died: 2012-08-12 (Age:54)
Stance: Orthodox
Height: 191cm
Reach: 198cm
Pro Boxer: Record
Amateur Boxer: Record

Managers: Marty Cohen, Carl King
Trainers: Bill Slayton, Johnny Tocco
Promoter: Don King (Don King Productions)
Cut Man: Eddie Aliano
Michael Dokes Gallery

Biography
Michael Dokes won the WBA heavyweight title with a controversial first-round TKO of Mike Weaver on December 10, 1982. Most thought the fight was prematurely stopped. On May 20, 1983, Dokes had a rematch with Weaver and retained the title with a fifteen-round draw. On September 23, 1983, Dokes lost the title to Gerrie Coetzee by a tenth-round KO.
Dokes battled drug addiction for many years and was in and out of rehabilitation programs. He told Sports Illustrated that he trained for the Coetzee fight on Jack Daniel's and cocaine.
Dokes was arrested in 1998 in Las Vegas after his girlfriend told police that he beat her, sexually assaulted her, and held her against her will. She testified that Dokes was a good person when he was clean and sober, but drug and alcohol use made him violent. In 2000, Dokes pleaded guilty to attempted murder, second-degree kidnapping, and intent to commit sexual assault. He was sentenced to 10 years in prison. Paroled in 2008, he lived in Las Vegas before returning to Akron to live with relatives in 2010. Dokes died in an Akron hospice from liver cancer.
Amateur highlights
Amateur Record: 147-7
1974 National Golden Gloves Light Heavyweight finalist, losing to Bobby Stewart
1974 National AAU Light Heavyweight finalist, losing to Leon Spinks
1974 North American Light Heavyweight Champion
1975 National AAU Heavyweight Champion
1975 Pan American Games Heavyweight Silver Medalist, losing a 5-0 decision to Teofilo Stevenson
1976 National Golden Gloves Heavyweight Champion, defeating John Tate and Greg Page en route to the title
Awards