Paul Pender
Jump to navigation
Jump to search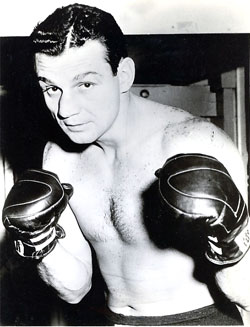 Name: Paul Pender
Hometown: Brookline, Massachusetts, USA
Birthplace: Brookline, Massachusetts, USA
Died: 2003-01-12 (Age:72)
Stance: Orthodox
Height: 178cm
Reach: 183cm
Pro Boxer: Record

Paul Pender Image Gallery

Paul Pender was born in Brookline, Massachusetts, on June 20, 1930, into an Irish-American family whose roots were in Killarney, County Kerry. As a youth, he won All-Stars honors as a high school footballer and excelled at swimming. An intelligent and articulate young man, he completed a couple of years studying politics at Staly College, Brookline, before deciding to give boxing a try. In January 1949, having won the New England amateur title, he turned pro.
A local Boston middleweight, Al 'Red' Priest, had watched him box as an amateur and recommended him to Johnny Buckley, a manager who had previously looked after world heavyweight champion Jack Sharkey and middleweight claimant Lou Brouillard. Buckley liked what he saw, and engaged Al Lacey as trainer.
It was a partnership that was to endure to the end of Pender's career, although the team was later augmented by Boston lawyer John Cronin.
CONFIDENCE SHAKER
Pender enjoyed early success in the paid ranks and only a draw with Bill Daley marred his record in his first 21 fights. Norman Mayes inflicted his first defeat, in December 1950, and although Pender reversed the result with a seventh-round knockout in a rematch a month later, his confidence had been severely shaken and he won only one of his next five fights.
Eugene Hairston, the deaf-mute from Harlem whose victims included Kid Gavilan and Paddy Young, knocked him out, as did Jimmy Beau. After the defeat by Beau, in March 1952, Pender drifted out of the game. He said later that he was being torn apart "by a lot of internal conflicts with my own organization of supposed advisers." He decided to join the US Marines, where he was employed as a boxing coach with the rank of corporal.
However, the competitive urge was still there and, in August 1954, Pender eased back with a 10-round points win over Larry Villeneuve. He underwent an operation to remove a piece of floating bone from his hand. But any hopes that the problem had been solved evaporated when he broke his hand again outpointing Ted Olla. He followed that victory with a fourth-round knockout of Freddie Mack, a colorful character who enjoyed a modestly successful career as a pop singer after settling in Britain when his boxing career was over.
These victories earned Pender a match with Gene Fullmer--the young Mormon from Utah who was making a big name for himself with 27 straight wins, 19 inside the distance and 11 in the first round.
MORE HAND PROBLEMS
A win over Fullmer would have propelled Pender into the ratings. Instead, he endured a nightmare when they met in Brooklyn in February 1955. Pender broke his left hand in the fourth round and his right in the sixth.
It was nearly two years before Pender surfaced again. He outpointed Jimmy Skinner in December 1956, but broke his hand yet again and once more retired for two years. He was rumored to be drinking heavily, and there were frequent reports of bar-room brawls. However, marriage and the arrival of two young children helped calm him down. He took a job as a docker and later joined the fire service to support them.
Despite all the disappointments and setbacks, Pender still nursed his dream of success in the ring, even though he had managed only six fights in seven years. In late 1958, he launched one last comeback. His first six opponents failed to go the distance. His hand problems seemed to have righted themselves, and in March 1959 he had a break of a more welcome sort, when he was matched with TV favorite Ralph 'Tiger' Jones.
MIDDLEWEIGHT SPLIT
Jones was amazingly popular on TV, with around 50 of his fights being screened. Two months before facing Pender he had outpointed Joey Giardello. Although a rank outsider, Pender boxed brilliantly to win an easy decision, and his success continued when he outpointed Jackson Brown, in August 1959, to win the New England title.
Meanwhile, World Champion Sugar Ray Robinson was in trouble for not defending the title he had regained from Carmen Basilio in March 1958. The National Boxing Association had declared his title vacant and matched Fullmer and Basilio for their version. Fullmer won and carried the backing of most of the American states, although Britain and Europe followed the lead of the New York Commission and continued to recognize Robinson. Massachusetts, Pender's home state, was one of the few to line up behind New York.
`Satchel' Sam Silverman, the Boston promoter who had staged virtually all of Pender's fights, persuaded Robinson that the apparently non-threatening and brittle-handed Pender would not pose much of a problem and would give the champion an easy defense. His persuasiveness paid off.
BOSTON UNDERDOG
Pender went into the challenge against Robinson, in January 1960, as a 6-1 underdog. Yet he had so much self-confidence that he put $2,000 on himself to win and promised to retire and join the police force if he lost.
Robinson, at 39, knew he would struggle over the 15-round course and gambled on a quick finish, throwing everything at the challenger in the opening round. Pender, with the backing of 10,680 of his fellow Bostonians, rode out the storm, dominated the later stages of the fight and took the middleweight championship on a split decision.
Robinson, who was always generous in defeat, had no complaints about the verdict. "What I think about the outcome doesn't matter," he told the press. "That's for the referee and judges to decide."
It was a costly night for Robinson, who had turned down a $500,000 guarantee from Madison Square Garden for a defense against Gene Fullmer in favor of his $83,311 paycheck against Pender. "Pender was moving away for seven rounds," he explained. "Guess he figured I'd tire later on. Maybe he was right. I just couldn't seem to get going."
SUGAR RAY RETURN
The rematch, inevitable in those days, was made for Boston, in April 1960, and Robinson tuned up by disposing of Tony Baldoni in just one minute 40 seconds. However, Pender injured his right heel in training and the fight had to be postponed until June. Robinson caused another hitch in the build-up when he walked out of a proposed warm-up fight in Baltimore. He refused to fight against a last-minute substitute, leaving the crowd of 2,014 disappointed and angry. The Maryland Commission suspended Robinson's license, and the NBA said they would instruct their member states to honor the suspension.
Only a week or so previously, the Massachusetts Commission had announced a set of new laws to improve the administration of the game there, but they were now put in the awkward position of refusing to honor another state's validly-imposed suspension. Had they done so, of course, Robinson would not have been free to face Pender.
The New York Commission, Pender's principal backers as world champion, adopted an even more confusing stance. They decided to suspend Robinson's license, but then announced that they would continue to recognize the Pender defense against Robinson.
Like their first encounter it was very close and hard to score. Judge Johnny Savko had it 147-142 for Pender. Referee Jul McCarron made it 146-144 to Robinson. And judge Jim Carrig scored an outrageously wide 149-138 in Pender's favor, suggesting that the veteran ex-champion had won only one round and had drawn two out of 15.
Pender's victory made him the first man to beat Robinson twice, and afterwards he talked of a unification match with NBA champion Fullmer. He even considered a light-heavyweight challenge to Archie Moore.
THE BRITISH CHALLENGE
More immediately, however, he agreed with London promoter Harry Levene, who was at ringside in Boston, that he would face the winner of the forthcoming British title fight between Terry Downes and Welsh challenger Phil Edwards. The plan was to stage a non-title bout against the victor, with the promise of a title challenge should Pender be beaten.
Pender duly flew to England and watched Downes win his Lonsdale Belt outright by forcing the Welshman to retire after 12 rounds. When Downes went on to outpoint top-ranked Joey Giardello (who eventually went on to win the title himself), the idea of a non-title fight disappeared. The London-born, ex-US Marine Downes was given a title date with Pender, in Boston, in January 1961. The contest, which is featured in Video Action, proved to be one of the best of Pender's career.
Pender had to dig deep into his reserves to force a seventh-round stoppage against a relentless Downes. The challenger forced him to stand and trade blows throughout, but all three officials had Pender ahead when he split Downes's nose to end the fight. It was a devastating blow for the Englishman, who had felt that the fight was going according to plan up until that point. "I felt him getting weaker and myself stronger around the sixth round," he claimed. "It was easy to hit him in the body."
Pender was gracious in victory, and paid Downes the ultimate compliment by comparing him to ex-champion Robinson. "Sugar is clever and hard to catch," said Pender. "But this guy Downes comes at you all the time and hurts when he hits."
London promoter Harry Levene immediately offered Pender $35,000--twice his purse for the first fight--to give Downes a rematch at Wembley in May. But Pender turned it down in favor of a possible date with the winner of the forthcoming Fullmer versus Robinson NBA title fight, scheduled for March in Las Vegas.
However, in late February 1961 Pender announced that he had changed his mind and would accept Levene's offer to defend his crown in London. The waters were then muddied further when, a week later, the champion let it be known that he was also considering an offer to defend against former holder Carmen Basilio.
CARMEN NEXT UP
Eventually, it was Basilio who got the job. They met in Boston, in April 1961. Pender sent the veteran into retirement with a clear points victory--the judges scoring 149-135, 147-132 and 147-138 in his favor.
Pender floored Basilio for the first time in the former champ's long career, but he had to survive a weigh-in scare when he needed four attempts before scaling exactly on the middleweight limit of 11st 61b (160 lbs.). Pender also sustained a cut left eyelid in the second round, which later needed five stitches, but he assured reporters afterwards that the injury would not affect his plans--which now involved facing Downes at Wembley in July.
Pender, who had a fear of flying, insisted that his contract with Levene include a "no plane" clause, and held out for travel on the Queen Elizabeth with promoter Sam Silverman, trainer Al Lacey, and lawyer John Cronin. (Officially he did not have a manager, although he was still close with Johnny Buckley.)
He would earn $30,000 for the fight--three times what Downes was given. But Levene, as ever the entrepreneur, didn't miss a trick and he had Pender sparring in a specially-erected ring in Battersea Pleasure Gardens to help stir public interest.
But Pender refused to play the bad guy in the press build-up. "What am I supposed to do? Growl at Downes?" he asked. "Boxing is an athletic event like any other sport. Footballers aren't expected to go around growling at people to show they mean business. I'm not going to provide sensational stories while I'm here. All I promise is that on the night of the fight I shall try my hardest." He also said that, win or lose, this would be his last fight of 1961. "If I fight again the taxman will leave me with only two shillings [10p] in the pound. I think I deserve more than that for the work I put into training and fighting."
Despite Pender's reluctance to help play the publicity game, the show was a big success, with over 12,000 people paying receipts of $29,700. However, the fight itself proved a major disappointment for those who had expected a rerun of the Boston thriller.
Downes entered the Wembley ring with a scar on the bridge of his nose, having been cut in sparring by former British welterweight champion Wally Swift, and the cut reopened as early as the second round. Both men were cut again in the third: Downes on the left cheek and Pender over the left eye. The champion seemed anxious as the fight progressed, something that did not escape the notice of Downes, who kept the punches flowing as Pender was reduced to grabbing and leaning on.
WEMBLEY DISAPPOINTMENT
Pender was wrestled over in the sixth round, and his work generally lacked conviction. When blood started flowing from a cut above the American's right eye, he was forced to launch a late, desperate rally. At the end of the ninth round, Pender slumped onto his stool and his seconds called over referee Ike Powell to tell him their man could not go on.
The capacity Wembley crowd were stunned by Pender's retirement, and when they realized the fight was over some booed in anger and frustration. At least one person found a far more forcible way of expressing his displeasure. Albert Dimes, a leading underworld figure in the capital, beat up Pender's promoter, Sam Silverman, in a London nightclub, having been under the impression that Pender's defeat had been a betting coup.
Certainly the news that Pender had a 90-day return clause did nothing to allay suspicions of such a scam, and the American's explanation that he was suffering from the after-effects of a virus, which he had picked up while attending Mass on the Sunday before the fight, was less than convincing.
DOWNES FOR A THIRD TIME
A rematch was tentatively arranged for September, but Downes's manager Sam Burns was unhappy with the terms being offered by Silverman, and he dug his heels in. "We have demanded a $60,000 guarantee, plus full British film rights," he said. "Part of the guarantee must be deposited over here, and we are contracted to 30 per cent of the gate and 25 per cent of the TV rights. We had to play ball with them for the first two fights, but now they can meet our terms or else." Silverman met with the British camp and finalized a deal that gave Downes an extra $7,000. His total pay of around $15,000 would still be less than Pender's $20,000-plus, but he said he was happy with the revised deal. However, sweetness and light did not reign for long.
In early September, Downes fired his trainer Tommy Ryder (replacing him with Danny Vary) and informed Silverman that he had dislocated his thumb when falling down a flight of stairs at home. The injury did not respond promptly to treatment and he had to have an operation to reduce the swelling.
CHAMP ONCE AGAIN
The fight was eventually rearranged for Boston, in April 1962, and this time there were no hitches. No British world champion had ever managed to bring the title back from America, and the odds against Downes doing so were high. Pender had been criticized by the American press for his perceived surrender at Wembley, and he was fighting to redeem his honor and professional reputation as much as for the cash. The slide in his hometown popularity was evidenced by the fact that only 7,715 paid to watch--over 4,000 fewer than had attended the defense against Basilio. In truth, those who stayed away were the best judges, for although Pender won a unanimous decision, the fight was spoiled as a spectacle by his continual holding. Downes did his best work in the first five rounds, but constantly found himself frustrated by Pender's mauling tactics. Once the American settled down to his boxing, using his excellent left jab to full effect, he began to take charge. Downes was shaken in the sixth, although he hit back to open a cut on Pender's left eyebrow. And he was pushed through the ropes in the eighth as Pender again locked him in a clinch. Downes, whose chief worry was his easily-cut skin, bled from nicks on the nose and left eye and was bundled through the ropes in the 10th, with Pender landing on top of him on the ring apron.
In the last five rounds, Downes was cautioned by the referee for an assortment of offenses. Pender, curiously, escaped without a single warning.
At the final bell, the scores were close but unanimous: referee Jim McCarron had Pender in front by a single point, 144-143; judge Joe Blumsack gave it to him by 145-143; and Harry French marked the widest margin at 146-141.
FULLMER OPTION
Negotiations opened for a unification match with NBA champ Gene Fullmer. In late April promoters Sam Silverman and Norman Rothschild announced that the contracts had been signed for a fight to take place at Montana State College Field in Bozeman, Montana, during the second week of June. Then, in May, Pender was taken to the hospital with a severe scalp injury sustained when he crashed his car into a New York fire hydrant after swerving to avoid another vehicle.
The injury, combined with an NBA edict that Gene Fullmer must defend against Dick Tiger, caused the Pender fight to be put back, although it was considered highly unlikely that Fullmer would bother meeting Tiger anyway. After all, if he beat Pender he would he regarded as the "real" world champion, whatever the NBA might say.
But Fullmer wrong-footed everyone by agreeing to face Tiger in October, in San Francisco, with the Pender fight being shelved. Tiger duly outpointed Fullmer on a unanimous decision to leave Pender's agreement for a Fullmer fight worthless.
RUNNING OUT OF TIME
Pender was obliged to defend his title within six months of regaining it from Downes, and as the October deadline approached he began to come under increasing pressure from the various bodies that recognized him as champion. All kinds of opponents were mooted for him, including European champion Laszlo Papp and Jose Torres (who later became the world light-heavyweight champ).
The New York Commission ruled that they would not approve a fight against Torres as being for the world title, and the British Boxing Board of Control and the European Boxing Union quickly followed suit. Despite this, Pender set a date of November 15 to meet the Puerto Rican, saying that he would have three more fights and then retire. In the end, he did not have to wait that long.
CALLING IT A DAY
The Torres fight was cancelled when the Puerto Rican's manager, Cus D'Amato, failed to come up with the $35,000 guarantee and, in the same week, all the organizations that had previously backed Pender announced they were withdrawing recognition and switching their allegiance to Dick Tiger. Pender's lawyer, John Cronin, threatened to sue everybody involved, but eventually they had to accept the inevitable.
Pender's heart was no longer in the sport and, on May 78, 1963, he formally announced that he would not box again. Although he had beaten Sugar Ray Robinson twice and ended the career of Carmen Basilio, few people seemed to miss Pender on the world boxing scene. Part of his problem may have been that, like a young Chris Eubank, he professed a deep dislike for his chosen sport. Before his first fight with Robinson, he had even claimed that "boxing is so rotten with gangsters and thieves it should be banned for a five-year clean-up period." The general public rarely warm to men who make them feel uneasy about enjoying a spectacle they cherish.
BACK TO SCHOOL
The feelings of those in the sport meant little to Pender in retirement as he prospered in life outside of the ring. He found work as a security officer at a dog track and later took a post as recreation director at the 800-inmate Norfolk jail in Massachusetts. Eventually, he decided to go back to university and finish the degree that he had started before boxing claimed his attention. After completing his studies, Pender entered local Boston politics. He also worked as a fireman in Boston.
Paul Pender died January 12, 2003, at the Veterans Administration (VA) Hospital in Bedford, Mass.
---