Ray Lunny
Jump to navigation
Jump to search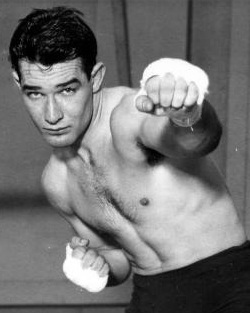 Name: Ray Lunny
Birth Name: Raymond Edward Lunny, Jr.
Hometown: San Francisco, California, USA
Birthplace: San Francisco, California, USA
Died: 2003-05-20 (Age:83)
Stance: Southpaw
Height: 171cm
Judge: Record
Referee: Record
Pro Boxer: Record
Amateur Boxer: Record


According to an April 11, 1947 wire report, Ray Lunny had been appointed the boxing coach of Stanford University, California. He succeeded Clayton Frye, and was to take over Sept. 1.
Ray Lunny 'The Pride of the Mission'
San Francisco Chronicle, Steve Rubenstein, 2003-05-22
Ray Lunny, an old-time, hard-punching San Francisco boxer fondly known as the "The Pride of the Mission" during a career of more than 100 amateur and professional fights, has died.
Mr. Lunny, 83, died Tuesday after a long illness in a San Mateo convalescent hospital.
He was an artist," said his son, the boxer Ray Lunny III. "He would make his opponents throw the punch he wanted them to throw. Then, as he used to say, he gave them a receipt for their efforts."
In 1940, at the height of his career, Mr. Lunny defeated Vern Bybee in a 10- round decision that Chronicle writer Harry Smith said was "much like the Roosevelt landslide."
"Lunny used the Gene Tunny plan of attack -- left to the head, right to the body -- to give Bybee as tough a licking as that youngster has taken. In a way it was pitiful. In a way it was masterful."
A year later, New York fighter Charley Varre knocked Mr. Lunny to the canvas at Civic Auditorium, but Mr. Lunny got up and walloped his opponent into submission.
"The 10th round was a virtual slaughter," said one account. "Lunny, punching like a machine, nailed him time and again with solid smashes to the head that sent him reeling from rope to rope."
Mr. Lunny, a native of San Francisco and a graduate of Commerce High School, became interested in boxing as a 10-year-old boy after an aunt gave him a pair of boxing gloves as a Christmas present.
He trained in the Mission District and fought at San Francisco Civic Auditorium and at the old Hollywood Legion hall in Los Angeles. He always wore a white shirt and tie in public. He was feared and respected by his opponents, but also he was well liked by them.
Some of his most celebrated foes in the ring, lightweights George Latka and Vern Bybee, became his closest friends.
In 1936, he was the state AAU lightweight champ, a Golden Gloves champ and the Pacific Coast Diamond Belt champ.
As an amateur, he held a record of 56 wins and 4 losses. As a pro, he was 36-4-3.
He fought two world champions in nontitle fights, beating Richie Limos and losing to Chalky Wright.
"He was an outstanding boxer, and he never suffered fools," said his longtime friend, boxing referee Jack Campbell. "He was a gentleman, from A to Z. A lot of boxers are loosey-goosey, but Ray was the epitome of a professional. The highest standards. Always in a tie and a white shirt."
He was a World War II and Korean War veteran of the U.S. Coast Guard. From 1947 to 1972, he was the boxing coach at Stanford University.
In the 1970s, Mr. Lunny spent many long hours in the gym coaching his son. When the young man was being outboxed in a 1976 title fight in Puerto Rico, it was Mr. Lunny who signaled to the referee that the fight was over, then kissed his son on the cheek.
Mr. Lunny was elected to the World Boxing Hall of Fame and to the California Old Timers Boxing Hall of Fame. During the 1980s, he was the president of the Northern California Veteran Boxers Association.
Watching Mr. Lunny fight, his son said, was "like watching someone perform magic." "He could make you throw a punch. He could make you miss. He would go against guys much bigger, stronger and younger. And what would look like a disaster would all work out in his favor."
Mr. Lunny is survived by his wife of 59 years, Carney, of Redwood City and by two children, Carney Small of Redwood City and Ray Lunny III of San Carlos.
A funeral Mass will be said on Saturday at 9:30 a.m. at St. Charles Church, 880 Tamarack Ave., San Carlos.
---