Salamo Arouch
Jump to navigation
Jump to search
Name: Salamo Arouch
Hometown: Israel
Birthplace: Thessaloniki, Greece
Died: 2009-04-26 (Age:86)
Pro Boxer: Record


Career Highlights
Salamo Arouch was a Jewish-Greek boxer whose experiences during World War II were turned into a major motion picture.
Arouch came from a family of fishermen. Salamo, his brother Avram, and his father, also worked as stevedores. However, Arouch's true love was boxing, and he was trained by his father in the "Manly Arts". Salamo's sparring partner was his childhood friend, Jacko Razon, who was also a boxer.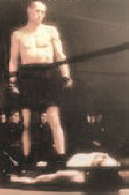 Salamo's father decided it was time for his son to enter the ring. In 1937, at the age of 14, Arouch made his debut in his hometown of Thessalonica, Greece, knocking down his opponent twice to win by a technical knockout.
By 1939, Salamo had a 24-0 (24 knockouts) record with a traditional style of boxing: jabbing and crossing. He became known in Greece as "The Ballet Dancer" due to his "fancy footwork." Prior to the outbreak of World War II, Arouch reportedly was a member of the Greek Olympic Boxing team.
It's unclear if he turned professional or not. However, just prior to World War II, Arouch went on to capture the Middleweight Championships of Greece and the Balkan States. Salamo Arouch's victories and celebration were short-lived when he was drafted into the Greek Army. He became a member of Greek Army's boxing team, winning three fights by knockout.
When Greece surrendered to Nazi-Germany, Arouch was arrested and, because he was Jewish, he and his family were deported from Greece (in the Hirsch neighborhood, near the railway station) and sent by train to Auschwitz deathcamp on March 15, 1943.
Auschwitz was a living nightmare for all involved. All the female members of Salamo's family were gased on the first day. So were all the children and infants. Salamo, his father, and younger brother were forced into slave labor. A Nazi officer found out that Arouch had been a boxer and forced him to fight in boxing matches held bi-weekly at the camp. (Under a "chamber of horrors" environment, all Jewish and Gypsy boxers at Aushwitz were forced to meet each other in boxing matches bet on by the Nazi officers at the camp. The fights ended only when one fighter was unable to continue. The winner of these fights would receive bread and soup; the loser would be executed and cremated.)
Arouch had his first camp boxing match on his second day in Auschwitz. With the camp commander acting as "referee", Arouch said he knocked out a fellow Jewish prisoner named Chaim in the third round. Twenty minutes later, Arouch said he knocked out a 6 foot Czechoslovak inmate with one punch to the stomach.
Arouch fought on Wednesday and Sunday evenings in boxing matches at the death camp for the entertainment of Nazi officers. His footwork and speed enabled him to beat fighters out-weighing him by over 100 pounds. In one instance, Arouch, 135 lbs., said he knocked out a 6-foot, 6-inch, 250-pound Gypsy fighter in 18 seconds.
Arouch kept winning; fighting two to three times each week. His most difficult fight was with a fellow Jewish boxer named Klaus Silber. Silber was a German-Jew, born in Dielsdorf, who reportedly had an undefeated amateur boxing record of 44-0 before the war. Silber was arrested and sent to Aushwitz. Like Arouch, Silber had never lost a fight at the camp; winning over 100 straight. Their fight was so fierce, that at one point, both fighters fell out of the ring. Silber went on to stun Arouch and then knock him down. However, Arouch came back to knock Sibler out. After the fight, Klaus Silber was never seen alive again.
Salamo was removed from the slave labor force and placed into an office at the camp. However, by this time, his entire family had been murdered. His father was executed after he became too ill to work. Arouch's brother, Avram, refused to work in the ovens, where he was to remove the gold teeth from those gassed to death; he was shot dead on the spot.
Arouch managed to survive for almost two years. He estimated that he compiled a 208-0-2 (208 knockouts) boxing record while he was imprisioned at Auschwitz. Salamo said that the more he won, the more he was hated by the Nazi guards, yet he wasn't killed as the officers won money betting on him. Arouch said that he boxed two draws at the camp because of dysentery, but because he was winning so much money for the camp commander who bet on him, Arouch and his opponent were both allowed to live. Among other Jewish fighters who fought in these matches were Victor (Young) Perez, Leone Efrati, and Kid Francis -- all of whom were murdered by the Nazis. Arouch claimed he was asked to meet his childhood friend Jacko Razon in a boxing match. Razon was also an inmate at the camp, and was undefeated. Arouch and Razon never met as the camp was soon liberated.
When the camp was finally liberated, Salamo Arouch was lucky to be alive. He had lost his entire family, and had been subjected to the worse kind of horror. However, he decided that "life must go on." Salamo asked the British forces around Aushwitz if they had any boxers who'd like a fight him in an exhibition. Two boxers were found, and Arouch defeated them both by knockout.
Arouch was relocated to the State of Israel. He married fellow camp inmate, Marta Yechiel and the couple had four children. He served in the Israeli Defense Forces and even fought a few boxing matches in the Israeli Army. He served in Israel's military during their war for independance.
On June 8, 1955, Arouch made his professional boxing debut in Tel Aviv, Israel; suffering a 4th round knockout loss to Italy's Amleto Falcinelli.
After retiring from boxing,Arouch began a successful shipping and moving business. In 1966, he fought with Israeli Defense Forces in the Six-Day War.
In 1989 a movie entitled Triumph of the Spirit, starring William Dafoe, was made about Arouch's experiences during World War II. A minor controversy broke out when Salamo's old friend Jacko Razon, claimed that the movie really told his story, not Arouch's. The case was settled out of court.
Arouch suffered a severe stroke in 1994. After being in ill health for 15 years, he died on Sunday, April 26, 2009 in Israel. Arouch is survived by his wife of 64 years, Marta, and four adult children.
Sources
Haaretz.com, Sunday, May 3, 2009 (Israeli News), AUSCHWITZ INMATE WHO SURVIVED BY BOXING DIES AGED 86, by Roy Bank.
Hadassaha Magazine, March 2001, Vol. 82, Number 7: THESSALONIKI, by Esther Hect.
Triumph of The Spirit, motion picture, 1989.
Sports World Specials, December 18, 1989, Section C, page 2, Column 3: BOXING: PRISONER IN THE RING, by Phil Berger.