Salvador Sanchez
Jump to navigation
Jump to search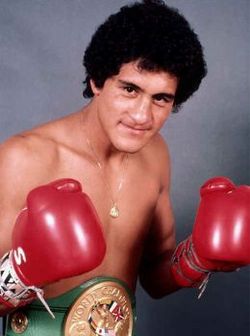 Name: Salvador Sanchez
Alias: Chava
Hometown: Tianguistenco, México, Mexico
Birthplace: Tianguistenco, México, Mexico
Died: 1982-08-12 (Age:23)
Stance: Orthodox
Height: 168cm
Reach: 173cm
Pro Boxer: Record


Salvador Sanchez was a complete fighter who possessed speed, power and excellent counter-punching skills.
Sanchez won the WBC Featherweight Championship by stopping Danny Lopez in thirteen rounds on February 2, 1980. He became the first Mexican to win a world title at featherweight since Ruben Olivares won the WBC title five years earlier.
In his highest profile fight, Sanchez stopped WBC Super Bantamweight Champion Wilfredo Gomez in eight rounds at Caesars Palace in Las Vegas on August 21, 1981. Gomez, who was 32-0-1 (32 KOs), was a 2-1 betting favorite.
The Ring named Sanchez Fighter of the Year for 1981, along with Sugar Ray Leonard.
Sanchez successfully defended the WBC Featherweight Championship for the ninth time by stopping Azumah Nelson in fifteen rounds at Madison Square Garden in New York City on July 21, 1982. It would be Sanchez's last fight.
On August 12, 1982, Sanchez was killed in a collision involving his white 1981 Porsche and two trucks on a highway north of Queretaro, Mexico. Police said that "excess speeding on the part of Sanchez" appeared to be the cause of the collision. Sanchez left a 21-year-old wife, Maria Teresa, and two sons, 16-month-old Cristian Salvador and 4-month-old Omar.
At the time of his death, Sanchez was scheduled to fight Juan La Porte at Madison Square Garden on September 15.
Sanchez was inducted into the International Boxing Hall of Fame in 1991.
The Associated Press named Sanchez the third greatest featherweight of the 20th century in 1999.
Professional record
Has defeated 9 opponents (4 by KO) for the World Featherweight Title.
External Link