Sandy Ferguson
Jump to navigation
Jump to search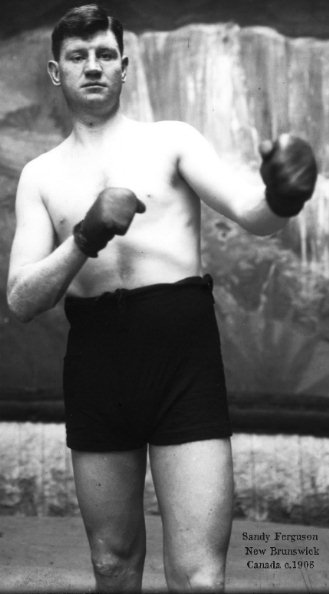 Name: Sandy Ferguson
Alias: Big Sandy
Birth Name: John A. Ferguson
Hometown: Chelsea, Massachusetts, USA
Birthplace: Moncton, New Brunswick, Canada
Died: 1919-02-26 (Age:39)
Stance: Orthodox
Height: 192cm
Reach: 201cm
Pro Boxer: Record

Photo #2 Photo #3
Manager: Alex MacLean, Johnny Mack, George Little. Trainer: Tim McGrath
John Alexander Ferguson emigrated to the Chelsea, Massachusetts area from Moncton, New Brunswick in 1892 with his family when he was 13 years old. His father James was a carpenter and ship's joiner. A big lad, young 'Sandy' later found work in lumber camps and boxed other lumberjacks for fun in off times. He looked good enough that someone suggested he try his luck in the pro game, which he did in 1898 or thereabouts. He was supposedly discovered in a Chelsea gym by Bob Fitzsimmons who happened to be touring. At his peak Big Sandy fought anyone regardless of colour and was often derided by some in the press because of it. A giant in an era of smaller heavyweights, Ferguson, known to some as "The Problem Child", fell victim to alcoholism and his career declined.
In his prime he developed a fair right hand but still relied mostly on a strong straight left jab and short hook to do damage. At some point he suffered damage to his nose that caused chronic breathing problems for which he tried undergoing surgery without success.
In February of 1919 Ferguson was admitted to Rhode Island Hospital in Providence and diagnosed with acute pneumonia. He died February 26 and his body was taken to the home of his brother Harry, a Chelsea policeman.
Sept.17, 1904. Ferguson, in the midst of marital troubles, ended up in a restaurant in Gloucester, Maine where, badly soused, he started to make trouble. He was confronted by owner Peter Steel, a large former fisherman from Nova Scotia who put him in hospital.[1]