Sandy Saddler
Jump to navigation
Jump to search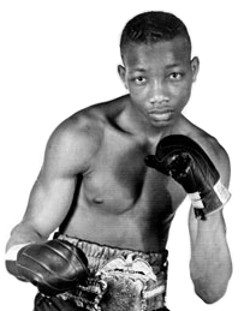 Name: Sandy Saddler
Alias: Joseph (Joey) Saddler
Birth Name: Joseph Saddler
Hometown: Boston, Massachusetts, USA
Birthplace: Boston, Massachusetts, USA
Died: 2001-09-18 (Age:75)
Stance: Orthodox
Height: 174cm
Reach: 178cm
Referee: Record
Pro Boxer: Record


Career Overview
In his second professional fight, Saddler was stopped in three rounds by Jock Leslie. It would be his only stoppage loss in 162 fights.
Saddler got his first shot at a world title in his 94th professional fight. A 3-1 underdog, Saddler knocked out Willie Pep in four rounds to win the World Featherweight Championship on October 29, 1948.
Pep defeated Saddler by a 15-round unanimous decision to regain the World Featherweight Championship on February 11, 1949. The fight was named Fight of the Year by The Ring.
On December 6, 1949, Saddler defeated Orlando Zulueta by a 10-round split decision to win the vacant National Boxing Association World Junior Lightweight Championship. He became the weight division's first world champion since 1933.
Saddler defeated Pep by an eighth-round TKO to regain the World Featherweight Championship on September 8, 1950.
After Saddler regained the World Featherweight Championship, the NBA ceased to recognize him at junior lightweight under its rule that a champion could only hold one title at a time. When Saddler knocked out Diego Sosa in Cuba on February 28, 1951, the Cleveland Boxing Commission recognized the fight as being for the World Junior Lightweight Championship. The weight division then fell into disuse until 1959.
Saddler defeated Pep by a ninth-round TKO to successfully defended the World Featherweight Championship on September 26, 1951. It was such a dirty fight that the New York State Athletic Commission revoked Pep's license and indefinitely suspended Saddler. In the December 1997 issue of The Ring, the fight was named the sixth dirtiest fight of all-time.
Saddler was drafted into the United States Army in April 1952. The title was frozen while he served his two-year hitch.
On January 22, 1957, Saddler retired as World Featherweight Champion due to a detached retina in his right eye. He suffered the injury on July 27, 1956, when a taxicab in which he was a passenger was hit by another car.
Professional record
Championship record
3 opponents (2 by KO) beaten for the World Featherweight Title.
Awards & Recognition
After Boxing
Saddler became a trainer after he retired as a boxer. Early in his career as a trainer, he worked with boxers in New York City. He trained servicemen aboard the SS United States and later became the physical director at the National Maritime Union Gym.
Saddler's cousin, Dick Sadler (who had only one "d" in his last name), trained George Foreman from his professional debut in 1969 until he lost to Muhammad Ali in 1974. Saddler was an assistant trainer, along with Archie Moore.
Saddler's later years were marked by serious health problems. In 1989, the police found him wandering one night in Brooklyn, his wallet and his glasses lost. He spent seven weeks in Bellevue Hospital Center, where he was found to have dementia and memory loss. Saddler died at the Schervier Nursing Care Center in the Bronx at age 75 on September 18, 2001.