Solly Krieger
Jump to navigation
Jump to search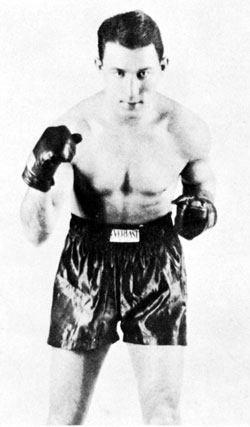 Name: Solly Krieger
Alias: Danny Auerbach
Hometown: Brooklyn, New York, USA
Birthplace: Williamsburg, New York, USA
Died: 1964-09-24 (Age:55)
Stance: Orthodox
Height: 173cm
Reach: 173cm
Referee: Record
Pro Boxer: Record
Amateur Boxer: Record

Manager: Hymie Caplin
Photo #2

The March 1950 The Ring magazine, in its article on the Golden Gloves, stated that in his amateur days in 1929, Solly Krieger was known as Danny Auerbach before changing his name. (He used that name because he first fought in the Golden Gloves under the age limit, so he used his friend's ID. But he was born Solly Krieger.) In 1928 he won the Novice New York Daily News Golden Gloves Championship vs. Jack Graham at welterweight and the Intercity Golden Gloves Championship in the 1st division at welterweight vs. Nick Fosco.
---
---
World Title History
Krieger won the National Boxing Association Middleweight Title on November 1, 1938 over Al Hostak by 15 round majority decision. Hostak broke both hands in the bout which left him ineffective offensively. However, Krieger fought inside Hostak, and did very effective body work against his opponent. In his rematch with Hostak on June 27, 1939, Krieger struggled to make weight, and by accounts of papers--such as the Seattle Post-Intelligencer--he was a mere shadow of the fighter who had won the title seven months earlier. Hostak easily disposed of him in four rounds to regain the NBA Title.
After his loss to Hostak, Krieger moved up to Light Heavyweight, and would fight his last fight as a Heavyweight, against Lee Savold.
For years afterward, Krieger's left eye gave him trouble. Miami Beach surgeons removed it April 19, 1951. He had wanted to donate the cornea for some sightless person, but it was found to be infected and could not be transplanted. New York Times
---
---