Sonny Liston vs. Chuck Wepner
Jump to navigation
Jump to search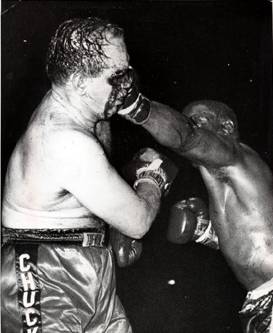 Date: 1970-06-29
Location: Armory, Jersey City, New Jersey, USA
Referee: Barney Felix
Notes
A crowd of 4,012 paid a gross gate of $37,600.
Liston was guaranteed $13,000. Wepner fought for a percentage and made $3,900. He would've made nothing if the gate had not topped $30,000.
Wepner was down from a right to the body in the fifth round.
The fight was stopped after the ninth round due to severe cuts over both of Wepner's eyes. He required 72 stitches and also suffered a broken nose and a cracked left cheekbone.
This was Liston's last fight. He died six months later. His death was ruled to be from natural causes, but many believe he was murdered. One theory is that Liston was supposed to take a dive against Wepner, and killing him was payback for his failure to do so.
Post fight comment
"I would quit boxing if I had another source of income. I hope some promoter can get me Jerry Quarry next." -Sonny Liston
Articles