Tex Vernon
Jump to navigation
Jump to search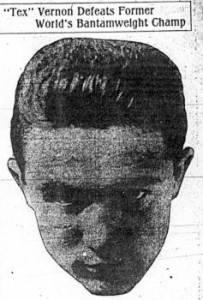 Name: Tex Vernon
Alias: Myron Kilgore
Hometown: Aberdeen, Washington, USA
Pro Boxer: Record

Managers: Eddie Marino, Monte Attell, Dick Ultican
Per the Dec. 30, 1914 Tacoma Daily News, Tex Vernon was operating a boxing club at Marinette, Wisconsin (Vernon's Club). (See also, Feb. 2, 1914 Tacoma Times article: [1]; Feb. 1, 1915 [2].) At this time he was Frank Farmer's manager in Wisconsin.
By July 1915 he had moved to St. Paul because of a standstill in boxing in Wisconsin. He then returned home to the Aberdeen, WA, area in early August after a year's absence. By this time, he was being managed by Dick Ultican.
On Oct. 16, he and manager Eddie Marino were arrested in Aberdeen for violating the alcohol prohibition law. [3]