Tommy Moyer
Jump to navigation
Jump to search
Name: Tommy Moyer
Alias: Sellwood Socker
Birth Name: Thomas Paul Moyer
Hometown: Portland, Oregon, USA
Birthplace: Portland, Oregon, USA
Died: 2014-11-28 (Age:95)
Stance: Orthodox
Matchmaker: Record
Promoter: Record
Pro Boxer: Record
Amateur Boxer: Record


Thomas Paul Moyer is a former National AAU champion boxer and boxing promoter. Outside of boxing, Moyer had a highly successful business career, owning movie theaters and commercial real estate.
Pre-Professional Era
1937 Pacific Coast Diamond belt champion at 135 pounds
1938 Pacific Coast Diamond belt champion at 135 pounds
1938 made the 2nd round of National AAU with Richard Ford gaining the decision at lightweight
1939 made the final of the Chicago Golden Gloves Tournament of Champions at lightweight with the decision being awarded to Johnny Pleasant.
1940 it has been said Moyer won a Diamond Belt in the Pacific Northwest. He then was runner-up in a national diamond belt tournament, after a great showing in the tournament, he was stopped on a cut by Tommy Campbell.
1940 Runner-up in National AAU Championships at lightweight with a 5 round split decision being awarded to Paul Matsumoto.
1940 was on the short-end of a 5 round split decision being awarded to Sugar Ray Robinson at the Rochester New York Tournament of Champions on July 22, 1940. This bout was reported as being extremely close.
1940 Member US Olympic Boxing Team --Games were cancelled because of World War II.
1941 won the National AAU Championship at lightweight vs. Gus Stanford in the final. (This was Moyer's fifth trip to the National AAU Championships.)
Professional Era
Moyer had a reported undefeated record as a welterweight in 22 professional fights.
Moyer Family
Promotional Career
Moyer later promoted boxing events, starting in 1956, taking over in Portland after the death of Tex Salkeld--with his most notable promotion being his nephew Denny's nationally-televised Welterweight title bout with Don Jordan in Portland in 1959. Moyer promoted in Seattle as well, including the Sonny Liston-Eddie Machen bout at Sick's Stadium [1]. He also promoted three boxing shows in Spokane in 1958, two of which featured his nephews, Denny and Phil. The other bout was an ABC-TV televised bout between Nino Valdes and Harold Carter at the Spokane Coliseum. Moyer's shows in Spokane did not do well financially, and he did not continue on in Spokane after the Valdes-Carter bout.
Outside Boxing Life
Moyer's parents, Harry and Rose, arrived in Portland around 1917 from Michigan. They struggled financially, and lived in the back of a store in Portland's Sellwood neighborhood, where Tommy grew up. His parents had always dreamed of running a movie theater, and finally were able to manage their first theater in 1933, in the Portland Sellwood suburb. The Moyers put the entire family to work in the theater, including young Tommy.
Moyer's father also boxed professionally, but not in Portland. Tommy dropped out of school to train full-time, and would go on to win a National Amateur title, and claim a record 151-6. He had a few bouts in Australia while serving in the Army. He then returned to Portland, where he had a brief professional career, winning all 5 of his professional bouts in the Pacific Northwest, retiring in 1946, he stated, because of over his disgust over cheap, dirty hotels and the criminal element in boxing.
Moyer served in World War II (1941-45) in the U.S. Infantry, Sunset Division [2], fighting in the Philippines. During this time, the Moyer family business continued to grow, and after the death of Moyer's father in 1951, the family business was turned over to Tommy, who managed the business, while his younger brother, Larry, handled the concessions. The brothers, however, began to fight, and in 1966, and with outside financing, Tommy developed his first multi-screen theaters. After the project began turning a profit for Tommy, the rest of the family filed a lawsuit to claim a share of the profits. Tommy won the litigation, and then sold his share in the family business for $390,000. However, his problems with his younger brother Larry continued, and the two remained business rivals for years. Larry continued to operate the family's older theater chain, and Tommy went on to expand his own theater circuit.
During the 1970s and 1980s, Moyer grew his business throughout Oregon, Washington, Alaska, Nevada and California. By 1989, he owned 298 screens, which at the time was the nation's 10th biggest theater company, and the largest privately-owned theater company in the United States. After the death of his wife in 1988, he sold his company to Act III Theaters in 1989 for a reported 192 million dollars.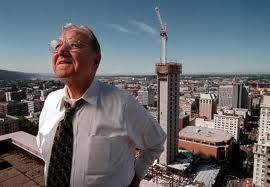 In the 1990s, Moyer ventured into real estate and development. His major developments included the 1000 Broadway Building [3], the Fox Tower [4], the Portland Meadows, and many other properties throughout the Portland area and Washington State.
Tommy Moyer was the executive producer for the 2011 documentary "After the Last Round". video trailer [5]
Sources
October 12, 1996 Vancouver Columbian (dollar figure in sale of theater chain)
March 15, 1987 Seattle Times (business career profile)
Photos