Tommy Paul
Jump to navigation
Jump to search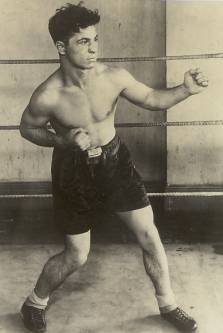 Name: Tommy Paul
Birth Name: Gaetano Alfonso Papa
Hometown: Buffalo, New York, USA
Birthplace: Buffalo, New York, USA
Died: 1991-04-28 (Age:82)
Stance: Orthodox
Height: 163cm
Reach: 161cm
Pro Boxer: Record
Amateur Boxer: Record

Managers: Jack Singer, George Blake
Trainer: Patsy Newman

Biography
Tommy Paul was born March 4, 1909 on Seventh Street in Buffalo?s old waterfront district. His Italian parents christened him "Gaetano Papa."
His love of boxing started early, as his two older brothers, Al and Mickey, were already known around Buffalo for their fighting abilities. At seventeen, Tommy walked into Jack Singer?s gym, where his brothers trained, and asked for a tryout. Singer reluctantly agreed and had Paul in the gym doing all the exercises needed to be a boxer. After seeing such enthusiasm and ambition, Singer knew he had a diamond in the rough. Paul was soon cleaning up the 112-lb division in his early amateur fights which started on November 10, 1926. Then Singer entered him in the Niagara district tournament in March of 1927, as a bantamweight. Paul defeated two experienced fighters in one night to earn the title. The championship earned him the right to represent the Niagara district in the National AAU tournament held in Boston, MA, in April, 1927. Paul again swept out his opponents and was crowned the United States Amateur Champion. In May of the same year, he was invited to the Empire State Amateur championships held in Madison Square Garden. Once again, he disposed of the challengers and won his third amateur crown in three months. He finished with a purported 31-2 amateur record.
On August 1, 1927, Paul had his first professional fight and won by four-round knockout over Freddie Griffith. Paul went his next 27 fights without a defeat, and was by then headlining cards at the Broadway Auditorium and Bison Stadium. He was attracting a huge and loyal following. He was soon after featured on the cover of the September 1931 The Ring magazine.
In 1932, the National Boxing Association invited the eight leading featherweights to a tournament to find the successor to Battling Battalino, who had outgrown the weight class. Paul brought his 53-6-2 record into the tournament and defeated Bushy Graham and Frankie Wallace to earn the chance to fight Johnny Pena for the title. On May 26, 1932, Tommy Paul won almost every round to become Featherweight Champion of the World.
On January 13, 1933, Paul lost the title on a decision to Freddie Miller in Chicago.
Even though Paul was rated in the Top Ten for the next two years, he would not get another title shot he so badly wanted. Tommy fought World Champions such as Panama Al Brown (D6), Fidel LaBarba (1 win, 3 losses), Kid Chocolate (D10), Petey Sarron (2 draws), Freddie Miller (2 wins, 4 losses), Bushy Graham (2 wins) and Frankie Genaro (W6). In all, he fought eleven World Champions and eight Hall of Famers with a record of 9-11-4 against them. Paul was rated in the top ten from 1929 to 1934, a total of 66 months. His final record was 79-27-10 with 26 KOs.
Paul retired in 1936 and worked and trained fighters in Buffalo until retirement age.
In April of 1991, Tommy Paul passed away at his North Buffalo home. In 1997, he was inducted into the first class of Buffalos Ring No. 44 Boxing Hall of Fame and in 2003 to the Greater Buffalo Sports Hall of Fame. 2022 New York State Boxing Hall of Fame inductee