Travie Davis
Jump to navigation
Jump to search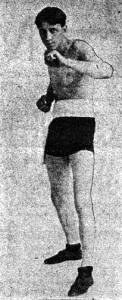 Name: Travie Davis
Birth Name: Travis T. Davis
Hometown: Everett, Washington, USA
Birthplace: Texas, USA
Died: 1943-09-02 (Age:46)
Stance: Orthodox
Pro Boxer: Record

Managers: Tom Andrews & Spider Roach
Trainer: Jess Hopps
Photo #2


Travis (Travie) T. Davis was born in Fannin County, Texas, to Augustus H. (1851-1913) and Delaney (1860-1936) Davis. He was the brother of fellow boxer Jack Davis, who may have been born Wandow Davis, and the elder brother of fellow boxer Truman Davis. They had a younger brother, Elbert C. Davis (Dec. 1887-August 1967), who apparently was not a boxer. The family came to Everett, Washington, in 1910.
Davis's one and only known amateur bout, and apparently his last, occurred October 13, 1914, Everett, WA, USA, against a boxer believed to be Nick Sugar. The Everett Morning Tribune gives only their last names and, although it mentions the card the morning-after, it did not provide the results. The Everett Daily Herald reports that Davis won the decision here. (Bout staged at Liberty Hall, located on Rockefeller Street between Hewitt and California, and sponsored by the Teamsters Union.) The last name of Davis's opponent is given as Shugar, Shugart and Schuchart by various editions of that paper (announcing the card, reporting the morning after, etc.). Davis and Sugar became friendly sparring partners, according to later editions of local papers. In fact, in mid-1917, one Everett paper reported that Davis, then fighting in Ohio, had written that he missed sparring with Sugar.
Davis was managed by former boxer Fred Bogan around 1916, and by Biddy Bishop, circa 1917. (According to a December 1916 Everett Tribune article, Jess Hopps was Bishop's brother-in-law.)
During his time on the East Coast, Davis fought in Ohio, Philadelphia, Baltimore, and in World War I "war drives" in Chicago, according to the Tacoma News Tribune, Jan. 28, 1919.
From newspaper accounts of those years, Davis was predicted to become a World Champion--based upon his record, skills, and increasing experience/knowledge. But World War I cut short that promise. Davis became a gunner's mate and a boxing instructor in the United States Navy during the war, based at the Great Lakes Training Station. He was honorably discharged from the United States military in late December 1918, according to the Tacoma News Tribune of Jan. 28, 1919.
After the war, he became an Everett City fireman by early 1919. According to Polk's Everett & Snohomish County Directory, Vol. 22, Davis lived at 2713 Wetmore Avenue, Everett, (with a Gladys) by the late 1920s. By 1943 he was employed as a guard at the Seattle City-County Building. By then he was a member of the American Legion and Last Man's Club (having served in the US Navy during World War I).
Davis died Sept. 2, 1943, from injuries sustained in an August 30 automobile accident in Seattle. He was survived by his two sons, Travis T. Davis Jr., and Damon D. Davis; his brothers Truman, Elbert, and Wandow (of Columbia City, OR); and three sisters: Mrs. Samantha Fox of Independence, Oregon; Mrs. Nora Trout of Dallas, Texas; and Mrs. Claudia Morris of Vernon, Alabama.
Funeral services were held at Jerread's Chapel, with Dean Thomas E. Jessett of Trinity Episcopal Church officiating. Davis is interred in Evergreen Cemetery (spaces 33-34, Section 25), Everett, WA, in the family plot next to his brother Elbert. His headstone mentions his World War I service.
External Links
Everett Public Library MP3 of Abe Glassberg Interview (where he mentions old-time boxing, Travie Davis and Leslie (Wildcat) Carter): [1]
July 8, 1916 Seattle Star [2]