Whitey Esneault
Jump to navigation
Jump to search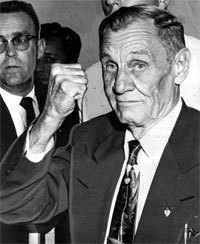 Ernest (Whitey) Esneault (born: September 13, 1891) was a successful boxing trainer based out of New Orleans, operating out of St. Mary's Italian Gym in the French Quarter. Esneault started his training career after World War I; he developed most of the top fighters produced out of New Orleans from the 1930s until his death. His fighters were usually known for their outstanding footwork. Esneault died in New Orleans January 20, 1968.
Notable Fighters Esneault Trained
Miscellaneous Info
Esneault had only one leg.
Served in the United States Navy during World War One.