Angel Clivilles
Jump to navigation
Jump to search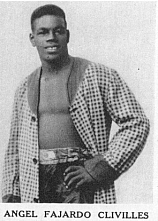 Name: Angel Clivilles
Birth Name: Angel Fajardo Clivillés
Hometown: Mayaguez, Puerto Rico
Birthplace: Mayaguez, Puerto Rico
Died: 1971-04-12 (Age:66)
Height: 175cm
Pro Boxer: Record

Division: Middleweight
Managers: Rafael Fernandez, Lew Burston
Felipe F. Clivilles, who fought at the same time, was Angel Fajardo's brother. Angel Clivilles' record is based on several sources:
Puerto Rican record book, published in 1929.
New York Times, Milwaukee Journal, Pittsburgh Post, Chicago Tribune
Record compiled by Andre Collin of Paris, dated 1 February 1986.#BOX-SPORT (Germany) reported many of Clivilles' fights in Europe. Some of his fights were reported in BOXING (England).
His record was published in the EVERLAST BOXING RECORD, 1931 and 1932 editions, and in the ANDREWS record books, 1932 to 1934 editions.
Luckett Davis