Baby Joe Gans
Jump to navigation
Jump to search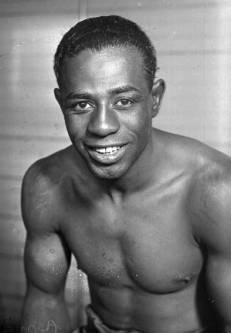 Name: Baby Joe Gans
Birth Name: Gerald Slaughter
Hometown: Los Angeles, California, USA
Birthplace: El Paso, Texas, USA
Died: 1959-04-20 (Age:60)
Height: 168cm
Pro Boxer: Record



The Feb. 23, 1927 Tacoma News Tribune (Tacoma, WA, USA) reported that Baby Joe Gans's record at the time was 92 total bouts, with 45 KOs, and three losses (two by KO, and one decision loss to Harry (Kid) Brown).
After his retirement, Gans trained fighters at the Milwaukee Urban League until his death of a heart attack in 1959.
"Gans was the guiding light for the Golden Glovers. Every tournament was dominated by his Urban League battlers. It is estimated that he turned out at least 100 Gloves Champions since he took over some 20 years ago.
This writer knew Joe Gans for many years and his loss will be felt not only in the boxing business but the community as well. Always the gentleman, he was full of warmth and sincerity, handling both Negro and whites. He was stern, yet seldom lost his temper. Those working under him had the highest respect for his knowledge of the game game and life itself."
- Ray Grody, The Milwaukee Sentinal, April 21, 1959