Barry McGuigan vs. Steve Cruz
Jump to navigation
Jump to search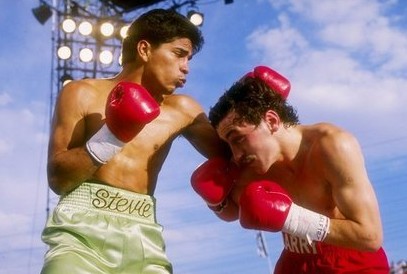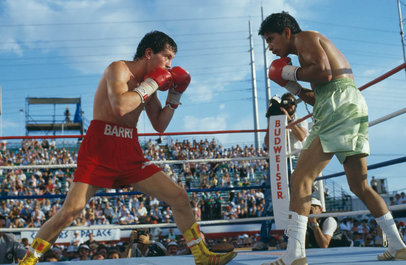 Barry McGuigan 126 lbs lost to Steve Cruz 126 lbs by UD in round 15 of 15
Date: 1986-06-23
Location: Caesars Palace, Outdoor Arena, Las Vegas, Nevada, USA
Referee: Richard Steele
Judge: Guy Jutras 141-142

1
2
3
4
5
6
7
8
9
10
11
12
13
14
15
 

Judge: Medardo Villalobos 139-143

1
2
3
4
5
6
7
8
9
10
11
12
13
14
15
 

Judge: Angel C Tovar 142-143

1
2
3
4
5
6
7
8
9
10
11
12
13
14
15
 
Notes
McGuigan was originally scheduled to fight Fernando Sosa, who had to withdraw because of two detached retinas.
Cruz entered the fight ranked No. 9 at featherweight by the WBA.
McGuigan was a 5-1 favorite.
McGuigan's purse was $500,000, and Cruz's was $70,000.
The fight took place outdoors at Caesars Palace.
There was a crowd of 10,200.
When the fight started at 6:20 p.m. PDT, the temperature was 110 degrees.
McGuigan was knocked down in the tenth round.
Referee Richard Steele took a point away from McGuigan in the twelfth round for a low blow.
McGuigan, who was ahead by two points after fourteen rounds on the scorecards of judges Guy Jutras and Angel C. Tovar, was knocked down twice in the fifteenth and final round. Both Jutras and Tovar awarded the round to Cruz by a 10-7 margin, giving the 5-1 underdog a one-point victory on the two judges' scorecards.
After the fight, McGuigan was taken to Valley Hospital as a precaution and stayed overnight. [1]
McGuigan vs. Cruz was named Fight of the Year by The Ring.
In a 1988 video about his boxing career, McGuigan said his manager, Barney Eastwood, forced him to fight Cruz despite ankle and ear injuries. Eastwood sued McGuigan and Channel 5 Video, the makers of the video, for libel and was awarded $775,000 in 1992. McGuigan and Channel 5 Video were also ordered to pay court costs, estimated at nearly $1.4 million. [2]