Benny Sharkey
Jump to navigation
Jump to search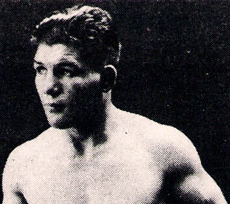 Name: Benny Sharkey
Hometown: Newcastle, Tyne and Wear, United Kingdom
Birthplace: Glasgow, Scotland, United Kingdom
Died: 1975-08-17 (Age:64)
Pro Boxer: Record

Benny Sharkey, of Hebrew heritage, came from a fighting family. His father Tom was a boxer, as was his brother Willie.
Sharkey fought from 1928 to 1940. During his career, he defeated three world champions, five British champions, one French Featherweight champion and one South American champion. The world champions were Emile Pladner, Teddy Baldock, and Baltazar Sangchili. The British champions were Jimmy Walsh, Johnny McGrory, Dave Crowley, Johnny King, and Johnny Cusick. The French Featherweight champion that Sharkey defeated was George LePerson. He also twice defeated Simon Chavez, who was the featherweight champion of Venezuela and a long-time contender for the featherweight crown. He also defeated Welsh bantamweight champions Phineas John, Cuthbert Taylor, and Stan Jehu. In addition he drew with Maurice Holtzer, a claimant to the world featherweight title, and defeated Scottish featherweight champion Johnny McMillian. He was also ranked in The Ring magazine's top ten as a bantamweight for part of 1931. Sharkey was ranked as the #9 bantamweight in the world for 1931 by the National Boxing Association. And he was ranked by The Ring as the #7 featherweight in the world for February 1938. Like many other fighters of his generation, Sharkey was a World War II Veteran. Sharkey served in the British Air Force during WW2.
Sharkey died in 1975.
Most of the Fight Record and date corrections are courtesy of Miles Templeton of www.prewarboxing.co.uk